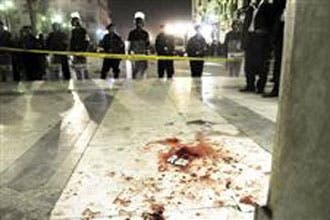 Egypt arrests three suspects over Cairo bomb
Death toll revised to one, 25 injured
Egyptian police said on Monday they arrested three people suspected of involvement in the bombing of a Cairo bazaar that killed a French teenager and wounded 25 others, most of them tourists.

The bomb, which police say was a rudimentary explosive, killed a 17-year-old French girl and wounded 25 people, most of them French tourists.

Earlier reports said four people had been killed but police later revised the number to only one.

Three men were rounded up immediately after the Sunday evening attack in the landmark Khan al-Khalili bazaar.

"Three people there were arrested on the site as suspects after the attack," a police official said. "Others are being questioned as witnesses."
The dead 17-year-old French girl was part of a tour group of 54 teenagers from the Paris region who were on a trip to buy souvenirs in the market before heading home on Monday.

"There was a very powerful explosion. Then screams and blood. We all started running," said Romy Janiw, 28, one of the seven adults accompanying the teenagers.
First attack in three years
French President Nicolas Sarkozy expressed "deep sorrow" over the attack, while Prime Minister Francois Fillon said his government "strongly condemns this criminal act whose blind violence shows its absurdity."

It was the first deadly attack on tourists in Cairo since a bombing in the same neighborhood killed two tourists and wounded 18 in 2005.

A series of bombings killed scores of people in Red Sea resorts on the Sinai peninsula from 2004 to 2006 that were blamed on militants loyal to al-Qaeda.

Sunday's attack took place outside a hotel across the square from the Hussein mosque, one of Egypt's oldest places of worship.

It wounded 17 French tourists, including one seriously, as well as a 37-year-old German, three Saudis and four Egyptians, officials said.

Tourism in Egypt, the most populous Arab country, reached record levels last year after a lull in deadly attacks over the last few years.

But in September last year, masked gunmen seized 19 hostages, including 11 tourists, on a safari in a remote desert area near the Sudanese and Libyan border. All were released unharmed.