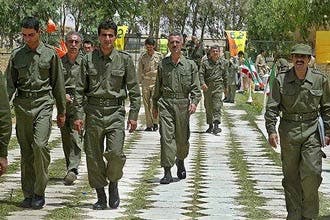 Iraq calls on foreign states to host Iranian rebels
No state willing to accept "terrorist" group yet
The Iraqi government appealed to foreign countries to accept members of Iranian opposition group, The People's Mujahedeen of Iran (PMOI), because it considers it a terrorist group and a diplomatic liability, press reports said on Friday.

"We do not wish to take responsibility for the sin of the presence of a terrorist organization in Iraq, which causes us domestic problems and problems with countries of the region," government spokesman Ali al-Dabbagh told Reuters.

PMOI was allowed to operate in Iraq by Saddam Hussein, who waged war with Iran in the 1980s, but the new Shiite-led government, which has mostly warm ties with neighboring Iran, has been less welcoming of the group.
"We ask the international community ... to find another place for them other than Iraq," Dabbagh said. "But no foreign state has come forward yet to express interest in accepting members of the organization," he added, despite the fact that many western countries no longer consider PMOI a terrorist group.

Human rights groups say forcing the 3,500 PMOI members out of their base at Camp Ashraf in northeastern Iraq would violate international law. The PMOI says Iraqi forces have beaten them, blocked aid and besieged their camp, charges Iraq denies.

The PMOI has run a high-profile campaign alleging abuses by the Iraqi government, and Iraq has labeled its members terrorists and liars.

The organization began as a group of Islamist leftists opposed to Iran's shah but fell out with Shiite clerics who took power after the 1979 revolution.
We ask the international community to find another place for them other than Iraq

Ali al-Dabbagh, Iraq govt.spokesman
Battle for legality
In 2001 the group renounced violence paving the way for the European Court of First Instance to rule in Dec. 12, 2006 against the inclusion of PMOI on the European Union's "terrorist list."

Since then the E.U. has made several attempts to reverse the court's decision or otherwise delay its implementation, but it has consistently failed and was forced to the group off its list of terrorist organizations.

The United Kingdom officially recognized PMOI on June 24, 2008 after winning a battle over its legality, while the United States still considers the organization a terrorist group.

Last month an unmanned Iranian aircraft, shot down over Iraq by U.S. forces, was speculated to have been an attempt to monitor PMOI activity.

Dabbagh did not confirm whether the downed aircraft was a drone or where it came from, but said Iraq placed high importance on maintaining good ties with Iran.

"We have joint concerns, problems, and want to develop our relationship and remove the fuse from any crisis that may happen," he said when questioned about the drone.
We have joint concerns, problems, and want to develop our relationship and remove the fuse from any crisis that may happen

Ali al-Dabbagh, Iraq govt.spokesman