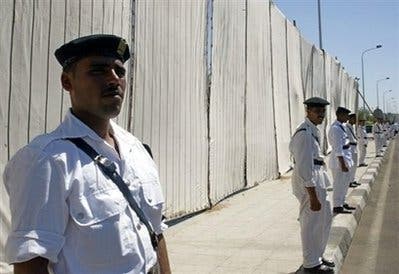 Egyptian villagers torch "deviant" Bahai homes
Bahais accused of links to world Zionism
In the latest outburst of religious tensions in Egypt, dozens of villagers set fire to Bahai homes after hearing on television that the village was "full of Bahais," reports said Thursday.

Angry villagers rampaged through Sharoniyah, in southern Egypt, on Monday and Tuesday, setting fire to and damaging four Bahai homes, a security official told AFP, asking not to be named.

The fires spread to two Muslim homes which were also damaged, the official said. The villagers also threatened the village's roughly 30 Bahais with death, the official said, after which all of them fled.
Police have detained six people in relation to the attacks and are questioning them as additional police were deployed in the area.

Earlier this month Egypt's ruling party agreed to allow Bahais to refrain from filling in the religion section on their identity cards and the government announced it was mulling the possibility of removing the religion section for all Egyptians.
Talk show
The arson attacks were the culmination of unrest that began with stone throwing immediately after a Bahai named Ahmed called a television talk show that was discussing the religious minority on Saturday night.

Ahmed, who now lives in Cairo after fleeing persecution in Sharoniyah, described the village as 'full of Bahais,' which showed that Egypt's around 2,000 Bahais are not just a minority in Cairo.

Several human rights organizations denounced the 'criminal aggression' against the sect and called on the authorities to prosecute those responsible.

Sectarian tensions run high in Egypt, with sporadic violence erupting between Muslims and Coptic Christians, who account for an estimated six to 10 percent of the country's 80 million inhabitants.

Reports of anti-Bahai violence, however, are rare.
Bahai linked to Zionism
A column in the state-owned al-Gomhuriyah newspaper said on Tuesday that the Bahais, whose world headquarters are in Haifa, Israel, are connected to "world Zionism."

Columnist Gamal Abdel Rahim described the Bahai as "a deviant group which seeks to harm Islam to serve the interests of the enemies of the Muslim religion, in particular world Zionism."

"I know very well that the villagers of Sharoniyah protect their religion and their beliefs. The proof is that the Bahai Ahmed himself admitted during the program that he had stones thrown at him at his home because he abandoned Islam."

Bahais follow a set of 12 principles and consider Bahaullah, born in 1817, the last prophet sent by God.
I know very well that the villagers of Sharoniyah protect their religion and their beliefs

Gamal Abdel Rahim, columnist