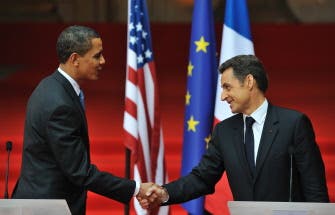 US can't fight terror alone, Obama tells Europe
Afghanistan and Russia to top agenda of 60th NATO summit
United States President Barack Obama warned Europe on Friday that it should not expect the U.S. to carry the burden of fighting a campaign against global terrorism, stemming from Afghanistan, alone, in a press conference with his French counterpart ahead of a key NATO summit.

The 60th anniversary of the NATO summit came fresh off the heels of the Group of 20 summit in the United Kingdom, where heads of state wrangled over the financial crisis, and was set to be dominated by talks on Afghanistan, Russia and Iran.
As London recovered from days of pro-justice protests, demonstrators in France and Germany, where the NATO leaders were set to meet , vowed to disrupt the summit.

On Thursday, police clashed with hundreds of protesters in Strasbourg, repeatedly firing tear gas and rubber bullets. French police said they had arrested 300 youths during the clashes.

Protests were also carried out in Germany but no incidents were reported.
Europe a likely target
Days after unveiling his new Afghan strategy, Obama called on European states to step deeper into the firing line and warned that al-Qaeda was more likely to attack targets in Europe than in the U.S., urging his NATO allies to unite behind his Afghan war strategy.

"France recognizes that having al-Qaeda operate safe havens than can be used to launch attacks is a threat not just to the United States but to Europe," Obama told a joint news conference with France's President Nicolas Sarkozy.
In fact it is probably more likely that al-Qaeda would be able to launch a serious terrorist attack in Europe than in the United States, because of proximity

U.S. President Barack Obama
"In fact it is probably more likely that al-Qaeda would be able to launch a serious terrorist attack in Europe than in the United States, because of proximity," he said.

"This is not an American mission, this is a NATO mission, this is an international mission," he declared, before talks at which he is expected to promote his plan to boost NATO forces in Afghanistan.

French President Nicolas Sarkozy earlier gave his backing to the new policy in Afghanistan outlined last month by Obama and said France would offer more help with aid and training.

"We completely support the new American strategy in Afghanistan," Sarkozy said during a joint news conference with Obama ahead of the summit.

He repeated that there would be no French military reinforcements but said France was ready to do more in the field of police training and economic aid.
Russia and Iran
Touching on the U.S.-Russian relations, Obama said that the U.S. must seek closer ties with Russia but "core disagreements" remain on some issues.

"We have to send a very clear message to Russia that we want to work with them but we can't go back to the old ways of doing business," he said.

Obama said some differences remained with Russia despite talks in London on Wednesday with Russian President Dmitry Medvedev at which they agreed to seek a deal on cutting their nuclear arsenals.

"It is important for NATO allies to engage Russia, and to recognize that they have legitimate interests. In some case we have common interests, but we also have some core disagreements," he said, without giving details.
We cannot have a nuclear arms race in the Middle East

Obama
"I think we should be in a dialogue with them about how we can maintain stability, while respecting the autonomy and independence of all countries in Europe -- west, east, central, wherever they are."

Obama also said it was important to ensure Iran does not develop nuclear weapons, an issue on which Washington is seeking Russian assistance.

"We cannot have a nuclear arms race in the Middle East," he said.

The United States and Iran are at odds over Tehran's nuclear program, which the West says is a cover to build an atomic bomb and Iran says is for peaceful energy.
Turkish opposition
Meanwhile, Turkey's Prime Minister Tayyip Erdogan opposed his Danish counterpart Anders Fogh Rasmussen's bid for NATO's top job because Rasmussen had failed to act on Turkish requests to ban a Denmark-based TV station linked to Kurdish rebels and criticized his stance during the crisis over cartoons of the Prophet Muhammad, published in Denmark in 2005.

"How can those who have failed to contribute to peace, contribute to peace in the future? We have doubts... and my personal opinion is negative," he said at a conference in London.

Erdogan said NATO was "an institution supposed to guarantee peace" and stressed that Turkey—the alliance's sole mainly Muslim member--"is absolutely against NATO losing strength."

Erdogan's remarks followed reports that Rasmussen officially announced his candidacy to be NATO's next secretary general at a meeting of NATO ambassadors in Brussels late Thursday.

The Danish prime minister is a favorite to succeed NATO Secretary General Jaap de Hoop Scheffer in August, with most of the alliance's big powers solidly behind him, but Turkey is seen as a key obstacle.

Rasmussen has yet to publicly comment on his candidacy, but an announcement could be made at the NATO summit.
How can those who have failed to contribute to peace, contribute to peace in the future? We have doubts, and my personal opinion is negative

Turkish Prime Minister Recep Tayyip Erdogan