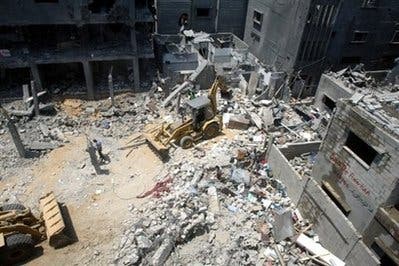 Spanish judge set to probe Gaza war crimes
Seven top Israeli officials to be investigated
A Spanish judge decided Monday to go ahead with a probe into alleged crimes against humanity by at least seven top Israeli military figures in Gaza despite a request by public prosecutors that he shelve the case.

Public prosecutors made their recommendation last month on the grounds that the alleged crimes in question were already under investigation in Israel, but National Court judge Fernando Andreu ruled that this is not the case, according to a copy of the ruling obtained by AFP.
Andreu first agreed to open the case in January at the request of Palestinian relatives of victims of an air attack on July 22, 2002 on Gaza City that killed 14 civilians, including nine children, and said because the Israeli military and civilian prosecutors declined to open proceedings of their own, Spain had the jurisdiction to investigate.

The complaint was lodged with the court against seven Israeli officials, including former defense minister Benjamin Ben-Eliezer, by the Palestinian Center for Human Rights.

That attack with a one-ton bomb dropped from an Israeli F-16 targeted attack also killed a suspected leader of the Islamist movement Hamas, Salah Shehadeh.

Spain assumes the principle of universal jurisdiction in cases of crimes against humanity, genocide and terrorism and crimes can be prosecuted in Spain even if alleged to have been committed elsewhere.

In addition to Ben-Eliezer, the complaint names the then army chief of staff, General Moshe Yaalon, as well as the then head of the Israeli air force, General Dan Halutz.

It also names General Doron Almog, national security council head Giora Eiland, Michael Herzog, a defense ministry official, and Avi Dichter, director of the Shin Beth intelligence agency.