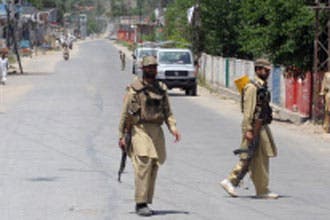 Street fighting begins in Pakistan-Taliban war
Pakistani troops enter main Swat city: military
Pakistan's war with Taliban fighters entered a new phase as government troops on Saturday stormed into the main town of Swat valley and fought street battles in a bid to restore full state rule over the province.

"Street fighting has begun in Mingora," military spokesman Maj. Gen. Athar Abbas told a news conference.

He said government forces had cleared some parts of the city but fierce clashes were underway in the center of Mingora, and 17 Taliban fighters had been killed on Saturday.

"In the last 24 hours, security forces have entered Mingora; 17 miscreants-terrorists, including an important miscreant commander were killed," the spokesman told a news conference in Islamabad.

There were intense exchanges of fire, one would-be suicide bomber was shot dead and another "suicide vehicle" rigged with explosives had been destroyed during the operation, the military said.
Crucial phase
The ground assault on Mingora, a city with an estimated population of around 300,000—most of whom have fled—marks the most crucial phase of the military's blistering offensive against the Taliban in the scenic valley.

"Today the most important phase of operation Rah-e-Rast, the clearance of Mingora, has commenced," said Abbas.

Although the military has bases inside Mingora, the town has been under effective Taliban control. As the administrative and business hub of the district, its capture is essential for the army to declare victory in Swat.

Pakistan says 15,000 troops in Swat are now fighting 1,500-2,000 "hardcore militants," nearly a month after ordering a battle to eradicate fighters who advanced to within 100 kilometers (60 miles) of the national capital.

Pakistani troops had been tightening their encirclement of the city for days and Abbas said Saturday that supplies of Taliban fighters were cut off, but the fighting in Mingora is likely to heighten concerns about civilian casualties.
Today the most important phase of operation Rah-e-Rast, the clearance of Mingora, has commenced

military spokesman Maj. Gen. Athar Abbas
Humanitarian crisis
Nearly 1.7 million people have been displaced by the Swat offensive while about 555,000 people had been forced from their homes by earlier fighting in the region.

The United Nations has warned of a long-term humanitarian crisis for Pakistan and on Friday launched a $543 million "flash appeal" for the displaced.

On Thursday, donors promised $224 million, including $110 million from the United States. The government has said the militants could exploit a failure to help.

The United States, which sees Pakistan as vital to its plan to defeat al-Qaeda and bring stability in Afghanistan, has applauded Pakistani resolve to fight what some U.S. leaders have called an "existential threat" to the country.