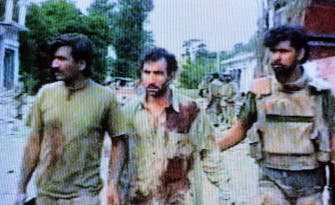 Battered Taliban stop fighting in Swat capital
Pakistani troops battle Taliban from house to house
Taliban commander Maulana Fazlullah asked his fighters to stop battling Pakistani troops in the capital of northwest Swat valley, a Taliban spokesman told AFP on Monday.

Pakistani security forces have been pounding Taliban positions in three northwest districts since last month, and on Saturday moved into Mingora, the business and administrative hub of the scenic Swat region.

"Maulana Fazlullah has directed all his mujahedeen to stop resistance in Mingora and its surroundings to avoid hardships to the people and losses to the civilian population," spokesman Muslim Khan told AFP.

"Most of our mujahedeen have already left Mingora," he said by telephone from an undisclosed location, saying only he was speaking from a mountain top.
Khan accused the military of killing civilians during its fierce onslaught in the districts of Lower Dir, Buner and Swat, where Taliban fighters have infiltrated towns and villages in a bid to impose a harsh brand of Islamic law.

"We will fight for the enforcement of shariah law till the last drop of our blood," Khan said.

The offensive in the Taliban bastion of Swat, about 120 kilometers (80 miles) northwest of Islamabad, is the military's most concerted effort to roll back a spreading Taliban insurgency that has thrown the nuclear-armed country's future into question.

"Look at the size of the city, the number of militants present there, the number of houses to be searched," military spokesman Maj.Gen. Athar Abbas said of the fighting in the town of Mingora. "It'll take at least a week to clear it," he said.

Pakistan says nearly 1,160 Taliban fighters and 69 soldiers have died in the offensive launched in the districts of Lower Dir on April 26, Buner on April 28 and Swat on May 8, but those tolls cannot be confirmed independently.
We will fight for the enforcement of shariah law till the last drop of our blood

Taliban spokesman Muslim Khan
Millions rooted
According to provincial government figures, 2.38 million people have been displaced while about 555,000 had fled earlier fighting in the region, a U.N. refugee agency spokeswoman said.

That figure had to be verified and could come down if instances of double counting were found, she said. The United Nations has appealed for $543 million in aid.

"The field is now open for the government," Taliban spokesman Khan said, adding that if it was sincerely concerned about "the welfare of the people" it should bring them back from the refugee camps.

"We will not create any hurdle," he said.

Security forces say 15,000 troops are now fighting 1,500 to 2,000 "hardcore militants" in Swat, where the government last month ordered a push to eradicate fighters who thrust to within 100 kilometers (60 miles) of Islamabad.

The extremists' advance came despite a February deal with a pro-Taliban cleric which put three million people in the northwest under shariah law in a bid to end the two-year Taliban insurgency—a deal which now lies in tatters.