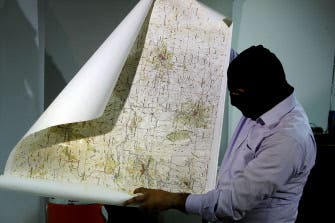 Lebanese officer held amid Israeli spy concerns
Beirut steps up government campaign on Israeli espionage
Beautiful women, secret trips abroad and a hurried escape across a mine-infested border are all aspects of so-called Israeli spy networks unraveling in Lebanon, which arrested one of its army colonels, security sources said on Tuesday, in a government campaign to crack down on espionage.

The sources said the colonel, who was not named, was arrested last week and was being questioned about links to spy agencies follwing the arrest of up to 30 suspected spies in recent months as part of a long-running probe by Lebanese intelligence into Israeli sleeper cells. More arrests are expected, security officials say.
Suspected spies include a math teacher, housewife, butcher, a mobile phone salesman and a retired general, who were all found with sophisticated communications equipment and other gadgets in their homes or offices.

Senior Lebanese security officials say the arrests have dealt a major blow to Israel's spying networks in Lebanon, which considers itself in a state of war with the Jewish state.

Last week Beirut filed a complaint to the United Nations that Israel was violating its sovereingnty by creating spy networks in Lebanon and at least 21 suspects have already been charged, some in absentia, and several have confessed.
Growing espionage
Lebanon says at least two spies have fled over the heavily fortified border to Israel last week and demanded Tel Aviv hand them back.

Israel has not commented on the arrests in Lebanon but warned its citizens that "Arab groups" were using social networking sites like Facebook to recruit and hire spies.

Israeli intelligence services claim an Israeli Facbook user was contacted by someone claiming to be a Lebanese agent and was offered money for information on Israel.

Hassan Nasrallah, leader of the Shiite resistance group Hezbollah, last week called for the death penalty for all suspects convicted of spying for Israel.

Officials say many of the suspects played key roles in identifying Hezbollah targets that were bombed during a 34-day war between Israel and the Shiite group in 2006.

Other suspects have been charged with monitoring senior Hezbollah officials and at least one is alleged to have played a role in the 2004 assassination of a commander of the group.

In April a Lebanese prosecutor charged a former army general and three other people with spying for Israel and referred them to the military court.

Adeeb al-Alam, a retired brigadier general of the prominent General Security directorate, his wife and nephew were arrested on suspicion of espionage. A fourth person linked to the cell was still at large.