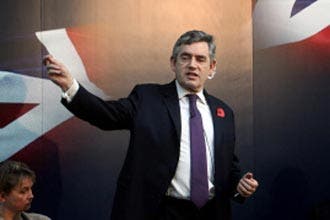 British PM condemns "barbaric" Qaeda execution
Captured British hostage murdered in Mali for revenge
Authorities in Mali named an Islamist leader Wednesday they said was behind a British hostage's execution after an al-Qaeda cell claimed to have exacted revenge for the detention of a radical cleric.

British Prime Minister Gordon Brown condemned the "barbaric act" and vowed to "confront terrorism" while Switzerland said it would strive to secure the release of one of its citizens who was captured alongside Edwin Dyer.

According to SITE Intelligence, a U.S.-based monitoring group, al-Qaeda in Islamic Maghreb had posted an online statement saying it killed Dyer on May 31.
"Unresponisve Britain"
The cell was quoted as saying that it executed Dyer after "finding that Britain is unresponsive and does not seem to care for its citizens."

Dyer was one of a group of six Westerners kidnapped by Islamic extremists in the Sahel region in December and January.

Two Canadian diplomats and two European women tourists were released in April and flown to the Malian capital Bamako, but Dyer and Swiss national Werner Greiner were not freed.

A Malian official said that the government in Bamako had been doing everything possible to free the hostages.

"Mali did everything -- everything. Unfortunately, he was killed in the end," the official told AFP, calling the murder "terrible."

Another Malian official who had been involved in negotiations to free Dyer said that he had been detained by Abdelhamid Abou Zeid, whom he described as "a violent and brutal Islamist."

Abou Zeid, also known as Abib Hammadou, 43, is listed on United Nations documents as a known al-Qaeda member. He holds Algerian nationality and has been described by experts on Islamist groups as an ex-lieutenant to the head of the Salafist Group for Preaching and Combat, which has since become al-Qaeda's north Africa branch.

He is alleged to have been behind the kidnappings in 2003 of a group of European tourists who were freed in northern Mali following negotiations and of the February 2008 kidnapping of two Austrian tourists in Tunesia. They were also freed in northern Mali last year following negotiations.
Mali did everything -- everything. Unfortunately, he was killed in the end

Malian official
Appalling act of terrorism
On May 21, al-Qaeda extended an earlier deadline on its threat to kill Dyer, giving Britain more time to respond to its demand to release Muslim cleric Abu Qatada, once regarded as Osama bin Laden's right-hand man in Europe.

"In this process the British state tasted a very small part of what innocent Muslims taste every day at the hands of the Crusader and Jewish coalition in the East and West of the world," SITE quoted the Islamists as saying.

The statement did not say how Dyer was executed.

Brown said there was "strong reason to believe" that Dyer had been executed.

"I utterly condemn this appalling and barbaric act of terrorism," the British prime minister said in a statement.

"This tragedy reinforces our commitment to confront terrorism. It strengthens our determination never to concede to the demands of terrorists, nor to pay ransoms."
I utterly condemn this appalling and barbaric act of terrorism

British PM Brown
"I have regularly discussed this case with the President of Mali. He knows that he will have every support in rooting out al-Qaeda from his country," Brown added.

He also pledged "every possible support" for Dyer's family.

The Swiss foreign ministry said it would continue to work towards securing Greiner's release.

"Together with all concerned parties and particularly with the close co-operation of Amadou Toumani Toure, President of Mali, the FDFA (foreign ministry) continues its efforts to set the last remaining hostage, a Swiss citizen, free," it said in a statement.

The remote Sahel region is the border area for half a dozen countries and illegal activities are rampant there.

Abu Qatada, whose real name is Omar Mahmud Mohammed Othman, is fighting a deportation order to Jordan, saying he risks being tortured in his home country.
This tragedy reinforces our commitment to confront terrorism. It strengthens our determination never to concede to the demands of terrorists, nor to pay ransoms

British PM Brown