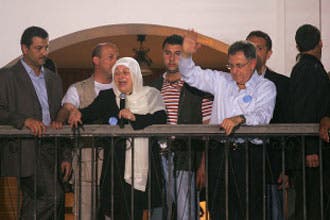 Hezbollah camp loses crucial Lebanon election
Voter turnout reached 53% as Hezbollah battles March 14
An anti-Syrian coalition defeated Hezbollah and its main Christian ally Michel Aoun in Lebanon's parliamentary election on Sunday, sources on both sides said.

If confirmed, the result would be seen as a blow to Syria and Iran, which support Hezbollah, and a boost to the United States, Saudi Arabia and Egypt, which back Hariri's alliance.

"We have lost the election," said a senior politician close to the bloc that includes Shiite groups Hezbollah and Amal, as well as Aoun. "We accept the result as the will of the people."
Polling centers closed at 4:00 p.m. GMT on Sunday in Lebanon's hotly contested general election, which observers believed could see an alliance led by the Shiite group Hezbollah defeat the Western-backed majority in parliament.

Voters inside polling centers after these close would be allowed to cast
ballots, after people turned out in masses to vote in the crucial parliamentary election.

Voter turnout reached 53 percent, higher than the 45 percen turnout registered in the 2005 elections, Lebanon's interior minister said after polls closed.

Voting took place amid heavy security measures with the army and police deployed in force throughout the country, preventing any outbreak of violence between the two camps.
The election is expected to be a tight race for the 128-seat parliament between coalitions at odds over issues including the fate of Hezbollah's powerful army and relations with neighboring Syria, which had forces in Lebanon until 2005.

Some polls forecast a narrow victory for Hezbollah, which is backed by Syria and Iran, and its allies, including Christian leader Michel Aoun.

Candidates from the ruling March 14 party have raised concerns about a possible win by Hezbollah, considered a terrorist organization by the United States, and said they believed if the resistance group wins Lebanon would face isolation from the international community and regional powers, like Saudi Arabia.

Rumors circulated in Kasr Ouan about ballots being made with invisible ink, meaning names would only appear for two hours and then disappear, leaving a blank paper when it comes time for slips to be counted.

People were also reportedly using fake identification cards, required for every voter, in order to vote more than once.
Flooded Lebanon
Voters flooded Lebanon from all over and some from as far as Brazil to ensure they have a say in the future of the divided nation.

Polls opened at 0400 GMT and many rose at dawn and some travelled for hours to be first in line to cast their ballot for their choice of candidate in the 128-seat parliament which is equally divided between Christians and Muslims.

''We came to vote for change," Mohammad Chamas told Al Arabiya in Mechan, a mixed Muslim and Christian village in the mountains near Byblos, north of Beirut.

"Yesterday Israeli planes were flying over Baalbek and no one did anything. Israel is violating our airspace every day we came to have our voices heard,'' Chamas, who travelled for three and a half hours to vote, added.

By midday thousands of people were queuing outside the 5,200 polling stations in 26 districts, overwhelming the authorities who said they had not expected such an early turnout.

Lebanese nationals were also crossing in from Syria by the car loads to vote mainly for the opposition.

"I came to tell people about Hezbollah's objectives and that so far everything seems fair and I have not seen any cheating," said election observer with Hezbollah, Jad Hassan, 20, who arrived at the polling stations at 5 a.m.
We came to vote for change...Yesterday Israeli planes were flying over Baalbek and no one did anything. Israel is violating our airspace every day we came to have our voices heard

Mohammad Chamas
Broad coalition cabinet
More than 220 international observers from the European Union, the Carter Center and other institutions and countries are overseeing the voting.

A handful of key battleground constituencies are likely to be crucial in determining the outcome, with the Christian vote, which is divided between the two camps, set to tip the scale.

But many expect the formation of a broad coalition cabinet, including parties from both sides, regardless of the result.

March 14, backed by the West and Saudi Arabia, won elections that followed the assassination of Hariri's father, Rafiq, in 2005, but struggled to govern in the face of a paralyzing and sometimes violent power struggle with Hezbollah and its allies.

Votes from divided Christian districts are likely to decide this year's election, conducted under a new law. Aoun, a former army commander, faces Christian rivals in the shape of the Phalange party of former president Amin Gemayel and the Lebanese Forces of Samir Geagea.

The influential Christian Maronite Patriarch Nasrallah Boutros Sfeir on Saturday warned of "a threat to the Lebanese entity and its Arab identity" in remarks seen as a veiled attack on Hezbollah.

Opponents say Hezbollah's weapons undermine the state, while the group and its allies see them as crucial to defending Lebanon against Israel.


(Written by Mona Moussly)