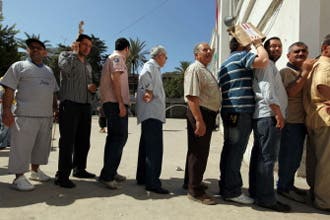 Eager Lebanese race to polls to cast their ballots
Lebanon's authorities monitor crucial election closely
Cars struggled to pass each other in the long line of vehicles maneuvering on the narrow mountain road into the village of Mechan in Lebanon to the school that served as the polling station.

Jeeps filled with veiled women and bearded men pulled up to unload their passengers, ferried by bus from their homes in Syria to vote for Hezbollah in a historic election that drew an estimated 10 percent of voters from abroad to vote in Lebanon's parliamentary elections.
A sheikh in white headdress was the first to arrive, and every few minutes another carload arrived to drop off some 200 voters who had made the five-hour trek to dip their fingers in purple ink and cast their ballots.

Mechan, part of the Byblos district, gets to elect three representatives: two Christians and one Shite. The country's democratic system requires a rigid adherence to parliamentary representation based on sectarian allocations to each of the country's 18 religious factions. Muslims get 64 seats and Christians the other half of the 128 seats in parliament.
"We came to have our voices heard," Mohamed Chamas told Al Arabiya, explaining why he had travelled from Syria to cast his vote in his hometown.

Lebanese Canadian expatriates flew into Lebanon on free tickets provided by pro-Western Future movement party supporters to vote in the high-stakes election where every vote could tip the balance, the CBC reported.

Lebanese must vote for one of the 580 candidates in one of 26 districts, which is determined by the hometown of their father or husband's family as recorded on their identity cards, regardless of where they live. Some 580 candidates are running.
We came to have our voices heard

Mohamed Chamas, Lebanese voter
Several youth dressed in bright red shirts of government stood just above the village school where people lined up for an hour to cast their vote while others dressed in yellow vests emblazoned with the green machine gun logo of Hezbollah stood watch across the street.

A cacophony of car horns attested to the passion of a society split between a Western-backed government loyal to former Prime Mineter Rafik al-Hariri's Future movement and that of the Syrian and Iranian-backed opposition loyal to Christian General Michel Aoun and the Shiite party Hezbollah respectively.
Cars draped in the red, white and green of the March 14 movement—which included Saad Hariri's Future movement and Samer Geagea's Lebanese Forces and Amin Gameyel's Phalangists—tooted a distinctive honk while those draped in the orange of Aoun or the yellow and green of Hassan Nasrallah's Hezbollah tooted another theme.

Honks echoed through the empty streets where shuttered stores and restaurants were reminders of the heightened tensions of a body politic concerned about clashes between rivals.

Lebanon's army was out in full force as tanks, strategically positioned at polling stations and throughout the cities, and soldiers in fatigues bearing rifles and machine guns kept a wary eye on residents they hoped would be dissuaded from causing any trouble.
Monitoring the election
Nearly 3.5 million people were expected to vote Sunday, with 10 percent of them returning from abroad to fulfill their civic duty. With an estimated population of about five million, their impact could be critical.

The authorities have suggested that some 16 million Lebanese citizens abroad will be able to vote through their embassies in the next election, but for the 2009 election they would have to travel back to a homeland that has been struggling to recover from a 20-year civil war that ended in 1991 and a 2006 Israeli war that decimated much of its recovery efforts.

European Union election observers were in Lebanon to monitor and assess the integrity of the elections, but even before election day their were reports of cheating and fraud.
One observer stationed in Byblos, the port city 35 km (22 miles) north of Beirut, told Al Arabiya that fake identity cards that were exact duplicates of the real ones required to vote were found in Beirut. Asharq al-Awsat, a pan-Arab newspaper, reported Thursday that ahead of the elections Lebanese authorities confiscated over 4,000 falsified ID cards.

In the days leading up to election day the various parties distributed ballots to the faithful listing the slate of candidates they supported. In Batroun, a beachside city in the north of Lebanon and home to a mix of Shite and Christian residents, ballots with disappearing ink were found, adding to the controversy over tactics used by the government-aligned forces to swing the election in their favor.

A week ago a new March 14 candidate named Gibran Bassil entered the race. But there was already a Gibran Bassil running with the March 8 opposition. The pro-government alliance hoped the confusion created by having two candidates with the same name would work in their favor, forcing the better-know opposition candidate to use a third name as an identifier thereby invalidating ballots that did not distinguish the two.
However the ploy backfired as the authorities, looking to French law for guidance, ruled that the lesser-known candidate would be the only one required to use a third name—his father's.

As the polls closed at 7 p.m., Michel Aoun's supporters were erecting a stage in the historic downtown area in preparation for what they hoped would be a victory celebration. Elsewhere the March 14 alliance was preparing for their own-hoped for victory.

In the 2005 elections the March 14th alliance gained 71 seats while the opposition won 57.