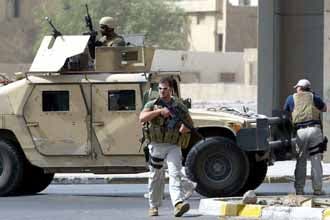 Three US contractors freed in Iraq murder case
Lack of evidence linking to brutal murder, two still in custody
Three Americans arrested on suspicion of murdering a fellow U.S. citizen in Baghdad's Green Zone have been freed due to insufficient evidence, but two others remain in custody, Iraqi authorities said on Thursday.

The five Americans, who work for a private security company in the Iraqi capital, were detained last week following the death of 60-year-old James Kitterman, who was stabbed multiple times and had his throat cut,. in May and have since been interrogated over the killing.

"Three of the five U.S. arrested have been released as there was not enough evidence against them," said Judge Abdel Sattar Birakdar, spokesman for Iraq's Higher Judicial Council, which has appointed an investigating judge to the case.
"The other two arrested are still in jail because it was discovered they committed another crime and investigations are ongoing with them."

The U.S. embassy in Baghdad, however, said only one of the American suspects had been released on bail and that he remained under investigation.

"The embassy can confirm that one of the detainees was released on bond on Wednesday evening," an embassy spokesman said. "At this time the other four are still in custody."

The embassy, which said over the weekend the arrested men were neither diplomats nor military personnel and that no formal charges had been pressed, said all five suspects are American citizens.
Three of the five U.S. arrested have been released as there was not enough evidence against them

Judge Abdel Sattar Birakdar
The three released contractors were Donald Feeney Jr., 55, his 31-year old son Donald "Buddy" Feeney III and Mark Bridges, an employee of the Feeneys' Corporate Training Unlimited security firm, according to an interview with the released men's lawyer in the Washington Times Wednesday.

"We really don't know why they were arrested yet," their attorney, Timothy M. Haake, told the paper. "There were a lot of weapons in there. There were concerns about whether some of the weapons were properly registered or the registrations had expired."

He said their release was likely delayed because their passports could not be found and that they looked forward to returning to work in Baghdad.

The detention marked the first time U.S. contractors have been subject to Iraqi criminal law following an agreement last year.

The role of private security guards in Iraq came under intense scrutiny over a deadly shooting in Baghdad in 2007 involving employees of the U.S. company Blackwater, which has since changed its name to Xe.
We really don't know why they were arrested yet

Timothy M. Haake, defense attorney