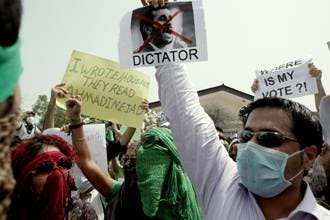 Mousavi attends Iran rally despite govt ban
Supreme leader orders investigation into fraud allegations
Defeated Iranian presidential candidate Mir Hossein Mousavi appeared in public on Monday for the first time since the election that has divided the nation, joining thousands of supporters who defied a ban to stage a mass rally in Tehran.

Mousavi and the other defeated reformist candidate Mehdi Kourabi turned up in a car at the opposition march to protest at what Mousavi has branded a rigged "charade," on the third day of public demonstrations following President Mahmoud Ahmadinejad's landslide win.
"Mousavi we support you! We will die but retrieve our votes!" shouted the crowds of thousands, young and old, who poured into central Tehran in defiance of an interior ministry ban on the march.

One protester was reportedly shot dead with a bullet to the head and more were wounded when violence erupted outside a local base of the Islamic Basji militia, which had been set ablaze.

Iran's supreme leader has ordered a top regime body to look into the complaints raised by Mousavi as Iran faced a growing international backlash over the validity of the election and the subsequent crackdown on opposition protests.

"No authorization for a march or gathering has been issued and any kind of gathering or march is illegal," a ministry official told AFP
Investigation and complaints
Iran's Supreme Leader Ali Khamenei called on reformist Mousavi to pursue vote complaints legally and ordered an investigation into allegations of election fraud, state television reported earlier on Monday.

The Guardian Council, whose chairman, Ayatollah Ahmad Jannati, endorsed Ahmadinejad before the vote, said it would rule within 10 days on two official complaints it had received from Mousavi and another losing candidate, Mohsen Rezaie.

"Mousavi and Rezai appealed yesterday. After the official announcement (of the appeal) the Guardian Council has seven to 10 days to see if it was a healthy election or not," ISNA news agency quoted council spokesman Abbasali Kadkhodai as saying.

The council vets election candidates and must formally approve results for the outcome to stand.
Appeal to cancel result
In a statement on his website, Mousavi said he had formally asked Iran's legislative Guardian Council to cancel the election result.

"I urge you, Iranian nation, to continue your nationwide protests in a peaceful and legal way," he said.

Mousavi's supporters handed out leaflets calling for a rally in Tehran on Monday afternoon. After dusk some took to rooftops across the city calling out "Allah Akbar" (God is greatest), an echo of tactics by protesters in the 1979 Islamic revolution.
Ahmadinejad appeared at his rally amid a sea of red, white and green Iranian flags waved by supporters thronging Tehran's Vali-e Asr square, some perched on rooftops or cars, to applaud his win.

"Some ... say the vote is disrupted, there has been a fraud. Where are the irregularities in the election?" Ahmadinejad said in a speech that the crowd punctuated with roars of approval.

"Some people want democracy only for their own sake. Some want elections, freedom, a sound election. They recognize it only as long as the result favors them," he said.
Some people want democracy only for their own sake. Some want elections, freedom, a sound election. They recognize it only as long as the result favors them

Iranian President Mahmoud Ahmadinejad
International backlash
Iran faced a growing diplomatic backlash on Monday over its post-election crackdown on the opposition as widespread doubt was cast over the validity of Ahmadinejad's re-election and suprising wins in the hometown's of each of the other three candidates.

The United States refrained from recognizing Ahmadinejad Sunday as the winner in Iran's presidential elections, with U.S Vice President Joe Biden voicing doubts about the outcome.

"There is an awful lot of questions about how this election was run," Biden said in an interview with NBC television.

"It sure looks like the way they're suppressing speech, the way they're suppressing crowds, the way in which people are being treated, that there's some real doubt," he told NBC's "Meet the Press" when asked if Ahmadinejad had won the vote.
Germany and France summoned Iran's ambassadors to express concerns over the tactics employed by baton-wielding police on Saturday and Sunday against demonstrators who say the outcome of the election was rigged.

EU ministers said Tehran must address the doubts raised by the opposition as well as put a halt to the violence.

"The actions of the Iranian security forces are completely unacceptable," German Foreign Minister Frank-Walter Steinmeier said on public television.

Steinmeier also called on Iran to clear up "immediately and without delay" allegations of irregularities in the election, which according to official results was won resoundingly by the hardline Ahmadinejad.

Arriving at talks with fellow foreign ministers, Britain's David Miliband condemned the "state violence" said "very serious doubts" had been raised about the election counting process.
It sure looks like the way they're suppressing speech, the way they're suppressing crowds, the way in which people are being treated, that there's some real doubt

U.S. Vice President Joe Biden