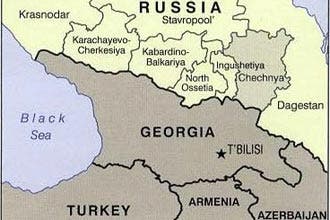 Egypt deports Chechen students to Russia
Deported Chechen students face torture: rights group
Egypt on Thursday forcibly deported four Chechen students to Russia, where rights group Amnesty International says they risk being tortured, but delayed the deportation of a key warlord's son.

Four students among dozens rounded up by security services on May 27 were put on a flight to Moscow. Mashkud Abdullaev, whose father Supyan is fighting Russian rule in Chechnya, was not, an airport official said.

The official said two students due to be deported, including Abdullaev, had missed the plane.
Russian Vice Consul Yusup Abakarov told AFP they would be put on a plane "maybe tomorrow." "There is a problem with the decision," he said, declining to elaborate.

The students had been rounded up for suspected links to an alleged al-Qaeda cell responsible for a Feb. 22 bombing in Cairo's tourist district in which one person died.

Amnesty said about 35 Russian students, mainly from the provinces of Chechnya, Ingushetia and Dagestan, were arrested in May during a wave of detentions of foreign students at al-Azhar.

A spokeswoman for the U.N. refugee agency said it had asked the Egyptian government grant it access to the men.

Abdullaev, who had been studying at Cairo's renowned al-Azhar Islamic University since 2006, has been held incommunicado since his arrest, London-based Amnesty said.

The students all claim to have refugee status in Azerbaijan, but the Egyptian authorities insisted they return instead to Russia where they face torture or other ill-treatment, Amnesty said.

It added that four other students arrested at the same time were deported to Russia on June 9, where Russian and Chechen security forces handcuffed them and took them away on arrival.

One of the four has since disappeared and is believed to have been moved to Chechnya.

Amnesty says it regularly receives reports of detainees being tortured in Russia, while in Chechnya detainees are at risk of torture, extrajudicial execution and enforced disappearance.

The predominantly Muslim region fought two wars with Moscow after the 1991 collapse of the Soviet Union, but it has achieved a measure of stability in recent years under the rule of strongman Ramzan Kadyrov.

North Caucasus security analyst Andrei Soldatov said that Supyan Abdullaev is "pretty active" and believed to be part of the "inner circle" of Doku Umarov, the leader of Chechnya's remaining separatist rebels.

Umarov's fate is currently unknown, with the Russian authorities refusing to confirm a report on Monday that he had been killed in a special operation by Russian security forces.
There is a problem with the decision

Russian Vice Consul Yusup Abakarov