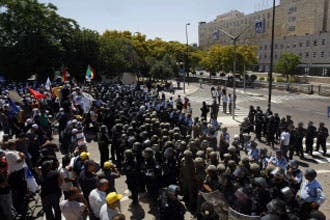 Israeli Druze protest against discrimination
Druze say they receive less state funding than Jews
Several hundred Druze demonstrators clashed with police outside Israeli Prime Minister Benjamin Netanyahu's office during a protest on Sunday against what they said was state discrimination against their community.

Demonstrators hurled eggs, sticks and bottles at riot police. Police spokesman Micky Rosenfeld said two policemen and several protesters were injured in the violence.
"Equality for Druze and Jews," and "No to racism," were among the calls from the crowd, which a police spokesman estimated at 800 people.The Druze religion is an offshoot of Islam.

Security forces said they had begun talks with Druze leaders, who had a permit for the protest, in the early hours with the hope of forestalling violence.

But some demonstrators seemed to have arrived prepared for an altercation, with Druze youths seen passing forward crates of eggs before bombarding a cordon of policemen ranged three-deep behind a concrete barrier.

Police said they responded when other objects, including a bottle, were thrown.

Officers leapt the low wall and battled demonstrators with truncheons, arresting three in the ensuing brawl. All those injured were treated at the scene, the spokesman said.
State support
During the fighting, several politicians, including Interior Minister Eli Yishai, addressed the throng in an effort to bring calm—but without success.

Druze community leaders say that state funding for their villages falls short of allocations for Jewish communities in Israel. A statement issued by Netanyahu's office said he later met with some of the protest leaders.
Our soldiers serve at the front but there's no state support at home

Protest poster
Druze men are conscripted into Israel's military and the native Arabic speakers are a prominent force in the paramilitary border police, often at the front line of confrontations with Palestinians.

"Our soldiers serve at the front but there's no state support at home" read one of the placards.

More than 100,000 Druze live in Israel and another 18,000 live in the Israeli-occupied Golan Heights, territory captured from Syria in the 1967 Middle East war.