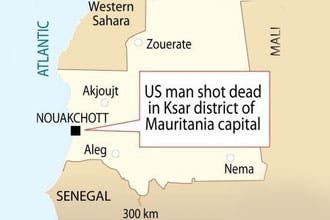 Mauritanian youth shoot dead American citizen
American foreigner in Mauritania shot dead after resisting
A group of youths shot dead an American national on Tuesday in the center of the Mauritanian capital Nouakchott, police sources said.

The man, whom investigators said ran a private language and computer school, was shot several times in the head from close range after he resisted an apparent kidnap attempt, a witness told AFP.

Al-Qaeda fighters were blamed for the killing of four French tourists in Mauritania on Dec. 24, 2007 that heightened concerns about extremist attacks in the country.
The latest shooting happened outside the school run by the American and close to a mosque at about 8:30 a.m. (0830 GMT).

"A foreigner has been shot dead, apparently by youths who fled. We are investigating the case," the police source said, adding that the victim was an American and that U.S. embassy officials were at the scene. There were no immediate claims of responsibility.

According to a resident who witnessed the incident, the man apparently tried to resist being bundled into a black Toyota car by a group of youths.
"When they failed to get him into the car, the youths killed him with three bullets in the head, fired at point-blank range," the witness told AFP by telephone.

High-level security officials, the governor of Noukchott and the state prosecutor visited the scene of the shooting, with the body still in the street. The U.S. ambassador to Mauritania did not comment.

Mauritania has been under military rule since last year when the west African country's first democratically elected president was overthrown in a coup.

The country straddles black and Arab Africa and is an ally of the West in its fight against al-Qaeda, which has been increasingly active in northwest Africa and the Sahara desert.
A foreigner has been shot dead, apparently by youths who fled. We are investigating the case

Nouakchott police