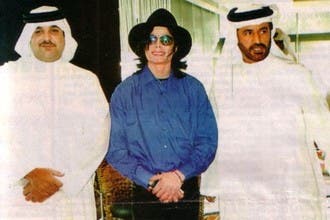 Muslim world grieves for Michael Jackson
Arab world mourns death of "Muslim King of Pop"
Michael Jackson's sudden death at age 50 provoked an outpouring of emotion from Muslims and Arabs who paid tribute to the pop star whose conversion to Islam and brief residence in the Gulf helped cement his popularity among a global fan base.

Despite ruling the charts and dazzling audiences with trademarks like the "moonwalk" in the 1980s, Jackson's career was overshadowed by his physical transformation and multiple allegations of child abuse. But his fans seem to prefer remembering him as an entertainer who transcended cultural boundaries and became one of the best-selling artists of all time

Sheikh Abdulla bin Hamad Isa Al Khalifa, the Bahraini prince who had a falling out with the "King of Pop" in 2008, publicly mourned his death as a tragic loss to the music industry in a statement in the Gulf Daily News.
Jackson moved to Bahrain with his children after his 2005 acquittal of child molestation charges and lived there for a year as a guest of the royal family. But after disagreement over plans for a concert comeback fell through his benefactor filed a lawsuit against him for $7 million that ended in an out of court settlement in 2008.

Yet Bahrainis, many of whom were accustomed to glimpsing the reclusive Jackson sporting a black women's abaya, a black over garment,, connected to Jackson on a cultural level as many felt he was one of them.

"He had many faults but he came to the Middle East and felt at home here. I respect his cross-cultural awareness which knew no bounds," a Bahraini fan said on Facebook page dedicated to the star.

"I grew up with Jackson's music…he was my window to the world of pop culture and I grieve for his sudden death," Haritha Moulid from Bahrain, said on a Remembering Michael Jackson Facebook page.
He had many faults but he came to the Middle East and felt at home here. I respect his cross-cultural awareness which knew no bounds

Bahraini Michael Jackson fan
"It's hard to overestimate the impact Jackson had on the world in general, much less the Muslim world," Zahed Amanullah, associate editor of the London-based altmuslim.com, wrote in an article on his website.

"Like young people elsewhere around the world, many Muslims simply loved Michael, for his gentle persona, his raw talent, or the pop culture seed planted in their subconscious," said Zaid Shakir, a renowned American imam, adding that he hoped his faith "cushioned" his fall.
It's hard to overestimate the impact Jackson had on the world in general, much less the Muslim world

Zahed Amanullah, editor of altmuslim
"Michael was an icon, a pain-filled, troubled icon, and like many of comparable stature before him, and inevitably many after him, his fall was sudden and unexpected," Shakir wrote on his website. "Hopefully, the tears he cried in the privacy of his oftentimes lonely world, tears described by Smokey Robinson as those of a clown, shed when no one's around, had dried," Shakir said.
Rumors of a Muslim pop icon
Jackson's appeal to the Arab world went beyond his musical legacy and smooth dance moves amid rumors in 2008 of his conversion to Islam, the Arab world's predominant religion.

Rumors that Jackson died as a Muslim intensified when Jermaine prayed for Allah to have mercy on him. "May Allah be with you, Michael, always," the brother said in a statement available on You tube.

In early 2007, Jackson's brother Jermaine Jackson, a Muslim and the family's official spokesman, announced that Michael would embrace Islam. Last November press reports said that Jackson had formerly converted to the religion.

Jermaine Jackson explained that it was the experience of touring the Gulf that brought his late brother into contact with Islam and that the singer found Islam's anti-racist universalism resolved some dilemmas about culture and race that Jackson had combated all his life.
Yet Jackson the Muslim remained shrouded in mystery and at best a rumor. Muslim folk singer Yusuf Islam, formerly known as Cat Stevens, denied press reports that he had attended Jackson's conversion ceremony.

"Contrary to persistent press rumours, I was not at any kind of conversion ceremony for Michael Jackson. Nor, I believe, was Dawud Wharnsby or any of the others mentioned in connection with the story," Islam said in a statement on his website, adding, "I hope that he finds inner peace and can return to making the kind of music that has inspired generations."

Nonetheless, Muslims were keeping an eye out for signs of his faith in death that may not have been visible in life.

"If anybody hears about a janaaza prayer (Islamic funeral) being held for Michael Jackson, Allah yarhamuh (May Allah have mercy on him), please pass it along. If it happens, I encourage all who are able to attend in full Islamic dress," a Muslim fan requested of others on a Muslim listserv.
Contrary to persistent press rumours, I was not at any kind of conversion ceremony for Michael Jackson

Yusuf Islam