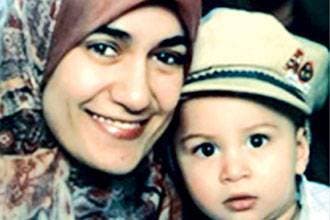 Father of 'veil martyr' urges dialogue with Islam
Veiled women in Europe need protection: Marwa Sherbini's father
The murder of Marwa Sherbini in a German court last Wednesday must not set in motion a wave of racial violence but rather a cross-religious dialogue between Muslim and non-Muslim countries, the father of Egypt's "veil martyr" told Al Arabiya Friday.

In an interview with the pan Arab news channel Dr. Ali Sherbini, father of the late Marwa Sherbini, called for dialogue between nations in the wake of his daughter's death and said Europe must make a sincere effort to understand Islam.

"I call upon Europe and the west to take pause and make the effort to understand Islam," a tearful Sherbini told Al Arabiya. "Marwa's death should not be in vain…non-Muslim countries should engage diplomatically and politically with Muslim ones to come to terms with Islam," he added.
The father stressed the importance of cross-religious dialogue as a means to quell Islamophobia in Europe, which many Arab and Muslim intellectuals said has gained ground in the recent decades following the Danish cartoons and recent anti-veil statements that have stigmatized Muslim communities in Europe.

"Europe must understand that hijab is part of Islam…a religious duty women take up out of belief not because of extremity…it is not a political insignia like they [western countries] make it out to be," Sherbini added, and called for the protection of veiled women in the west, who lately have become the subject of political debate within Europe.

Recently French President Nicola Sarkozy said the burka, or face veil some Muslim women wear was "not welcome" in France because it is not a symbol of religion but a sign of subservience for women.

In 2004 France passed a controversial law forbidding pupils from wearing veils and other religious symbols in state schools as part of the government's drive to defend secularism.
Marwa Sherbini was stabbed 18 times inside a full courtroom when she appeared to testify at an appeal hearing against her assailant who was in court to appeal a previous defamation conviction against her.

Twenty-eight-year-old Axel W. managed to leap across the courtroom and stab Sherbini to death and critically injure her husband in front of the judge, lawyers and witnesses. Sherbini's three-year-old son also witnessed the killing.

Axel was found guilty last November of insulting and abusing Sherbini, calling her a "terrorist" and a "whore" after she asked him to let her son sit on a swing in a playground in Dresden, eastern Germany.

Sherbini the father said he refused calls from lawyers of Islamic groups in Egypt to represent the murder case of his daughter fearing the association with Islamic groups would offer fodder for an "already biased" western media against the "hijab martyr."
Marwa's death should not be in vain. Non Muslim countries should engage diplomatically and politically with Muslim countries to come to terms with Islam

Dr. Ali Sherbini
"Outrageous crime"
Dr. Ali Sherbini was equally critical of what seemed to be Germany's racism towards its Muslim community to the point of having lax security measures that have led to an "outrageous crime."

"What kind of a civilized world is this that would lead to murder in the middle of a courtroom while the German judiciary looked on and a security guard shoots a man simply because he looked non-white?" Sherbini told Al Arabiya.

Tarek Sherbini, Marwa's brother who left to Germany with lawyers to start legal proceedings into the murder said the killing was a microcosm of the racism Muslims face in Germany and Europe in general.

Sherbini the son also condemned Egyptian authorities for not officially condemning the murder while his father said Azhar failed to send representatives to attend the funeral whereas Pope Shenouda III the Holy Synod of the Coptic Orthodox Patriarchate of Alexandria sent two representatives to the funeral.

"Two senior representatives of the Pope came to the funeral and sat through two lengthy Quranic recitations but no one from Azhar came," Sherbini said.

(Translated from the Arabic by Marwa Awad)
What kind of a civilized world is this that would lead to murder in the middle of a courtroom while the German judiciary looked on and the security guard shoots a man simply because he looks non-white

Dr. Ali Sherbini