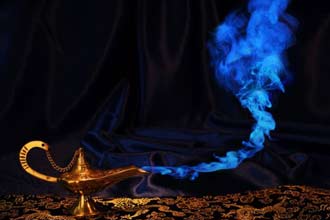 Bangladesh cracks down on 'kings of genies'
Conmen get rich by threatening family tragedy
Police in northern Bangladesh said they have arrested dozens of swindlers who conned people out of their money by calling them on mobile phones and pretending to be genies with supernatural powers.

"It has become an epidemic here," said Farhad bin Imrul Kayes, police chief of Gobindaganj district.
"In the last three months alone we have arrested 24 of these so-called 'kings of genies', some of whom have even become rich in just a year," he told AFP.

The scammers would gather personal information about their victims beforehand, call them and speak "in a tone similar to Arabic," Kayes said.

"Many of these cheats are illiterate but they are very smart," said sub-inspector Abdun Nur, who led several clandestine operations against the fraudsters.

"During the phone talks, they would describe themselves as kings of genies who recite Quranic verses, inject fear of Allah among their victims and pretend to know some of their family secrets," he said.

Claiming to be genies who had descended from the sky, they would tell people to send money to a specific location, threatening a family tragedy if they disobeyed.