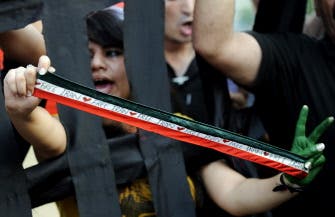 Protesters savagely raped in jail: Iran's Karroubi
Lawmaker accuses US citizens of having a hand in unrest
Defeated presidential candidate Mehdi Karroubi claimed several of the protesters jailed following Iran's June unrest have been savagely raped as a leading lawmaker said Monday the illegal entry to the Islamic republic of three detained American citizens may have been linked to the unrest.

"A number of detainees have said that some female detainees have been raped savagely. Young boys held in detention have also been savagely raped," Karroubi said in a letter to powerful cleric Akbar Hashemi Rafsanjani, which was obtained by AFP.
"The young boys are suffering from depression and serious physical and mental damage since their rapes," calling for Rafsanjani to order an investigation.

Karroubi's "confidential letter" was delivered on July 29 to Rafsanjani in his capacity as head of the Assembly of Experts, the powerful body which selects and supervises the activities of the supreme leader.

Karroubi urged Rafsanjani to take up the issue with supreme leader Ayatollah Ali Khamenei, saying the "clergy and the Islamic republic will be held responsible" for such acts.

"The people who told me about this hold sensitive positions and some are veterans of the war (with Iraq)," he said in the letter, a copy of which was obtained by AFP.
The young boys are suffering from depression and serious physical and mental damage since their rapes

Karroubi
Illegal entry
Meanwhile Mohammad Karamirad, a member of parliament's Foreign Affairs and National Security Committee, told the official IRNA news agency that the three Americans must be guilty because they snuck into the Islamic Republic.

"Their illegal entry cannot be altogether unrelated to the post-election unrest ... What mission were the three pursuing in Iran? Why did not they apply for Iran visas?" he said.

And on Sunday, the head of the Revolutionary Guards' political bureau called for Karroubi, fellow defeated election challenger Mir Hossein Mousavi and Ahmadinejad's predecessor Mohammad Khatami to go on trial for plotting a "velvet coup."

Iranian opposition leaders have repeatedly accused security forces of mistreating detained protesters as they maintain a defiant campaign against Ahmadinejad's victory in what they say was a rigged election.

Last month Khamenei ordered the closure of one detention centre, saying it was not "up to required standards."
Several reformist newspapers have also reported that several protesters have died in custody, but officials say they succumbed to disease and denied they were beaten.

The crackdowns have outraged the international community as Iran continues to battle its worst crisis since the 1979 Islamic revolution, with deep rifts between the country's clerical groups and the ruling elite.

But Tehran hit back on Monday after Washington branded the court proceedings against protesters as "show trials."

Iranian foreign ministry spokesman Hassan Ghashghavi described the Western criticism as "illegal and surprising," and said the court testimony by Iranian employees of foreign embassies was proof of foreign meddling.
Their illegal entry cannot be altogether unrelated to the post election unrest ... What mission were the three pursuing in Iran, Why did not they apply for Iran visas

Iran lawmaker