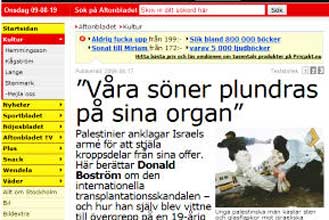 Sweden defends press freedom amid Israeli furor
Swedish FM downplays Israel row over organ trafficking claims
Sweden's Foreign Minister Carl Bildt on Friday played down a diplomatic row with Israel sparked by a Swedish newspaper's claims that Israeli soldiers stole organs from dead Palestinians.

But Bildt declined to condemn the piece, saying the government has to respect the Swedish constitution's principles on freedom of expression.

"As a member of the Swedish government, acting on the Swedish constitution I have to respect the freedom of the speech, irrespective of the personal views that I might have," he said.
When asked by reporters if the report published by the Aftonbladet tabloid would sour relations between the two countries, Bildt said: "I don't think so."

"We have very strong state relationship between Israel and our government. We are both open and democratic societies," he told reporters during a meeting of Nordic and Baltic foreign ministers in the Icelandic capital of Reykjavik.
We have very strong state relationship between Israel and our government. We are both open and democratic societies

Swedish Foreign Minister Carl Bildt
Anti-Semitism
On Thursday, Stockholm distanced itself from a statement by Sweden's Ambassador to Israel Elisabet Borsiin Bonnier expressing outrage at the article, drawing a stinging response from the Israeli foreign ministry.

"It is regrettable that the Swedish foreign ministry does not intervene when it comes to a blood libel against Jews, which reminds one of Sweden's conduct during World War II when it also did not intervene," it said in a statement.

Sweden's Aftonbladet newspaper sparked the row on Monday when it published a report claiming Israeli soldiers snatched Palestinian youths to steal their organs and returned their dismembered bodies a few days later.

The article implied a link between charges of organ theft from Palestinians and the recent arrest in the United States of an American Jew suspected of illicit organ trafficking.

Headlined "Our sons are plundered for their organs," the story made news in Israel, where officials described it as racist and accused it of using "vile anti-Semitic themes."

Israeli Foreign Minister Avigdor Lieberman said he planned to make a "serious protest" to Bildt over the Swedish Foreign Ministry's previous decision not to comment on the article.

"A country that truly wants to defend democratic values must strongly condemn deceitful reports with an odor of anti-Semitism of the kind published this week in Aftonbladet," Lieberman said in a statement.

Israeli Defense Minister Ehud Barak said he would look into suing the reporter for libel.

Bildt rejected claims that Sweden harbors anti-Semitic feelings, adding that the condemnation of anti-Semitism was the only issue on which there has ever been complete unity in the Swedish Parliament.

Tensions between the two countries have been strained in recent years.
A country that truly wants to defend democratic values must strongly condemn deceitful reports with an odor of anti-Semitism of the kind published this week in Aftonbladet

Israeli Foreign Minister Avigdor Lieberman