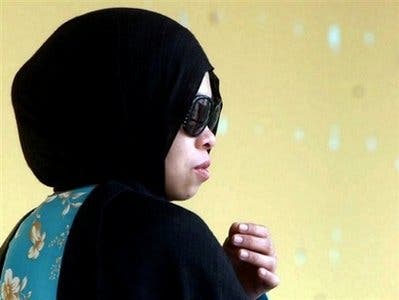 Beer-drinking model planning Mecca pilgrimage
Malaysian woman prepares for caning with prayer
A Muslim model who is to be caned for drinking alcohol said she is planning a pilgrimage to Mecca, and seeking solace in prayer as she prepares to face her punishment this week.

Kartika Sari Dewi Shukarno will be the first Malaysian woman to be caned under Islamic laws applicable to Malaysia's Muslims, who account for 60 percent of the 27-million population.
She was sentenced to six strokes after pleading guilty to drinking alcohol at a hotel nightclub in Dec. 2007, and is expected to receive her punishment this week at a women's prison in Kajang, south of the capital Kuala Lumpur.
Public caning
Kartika cried when the verdict was handed down last month but in an interview at her home in a small Malay village, the slim and soft-spoken Kartika was composed about her fate.

"Sometimes I feel sad and stressed as I have tarnished my family's name. But now after spending time reading the Quran, I feel calm and am not afraid of being caned," she said.

The part-time model and mother of two, who lives in neighboring Singapore, has called for her punishment to be carried out in public but it is not clear exactly how it will be conducted.

Officials from the sharia religious court are expected to detain Kartika on Monday and take her to prison where she will undergo a medical check.

Islamic scholars have backed the sentence, and said it would be carried out when she was fully clothed and with a cane that is smaller and lighter than the heavy length of rattan used in criminal cases.

Malaysia, a multicultural country with large Chinese and Indian communities, has a dual-track legal system and sharia courts can try Muslims for religious and moral offences.

Critics say the unprecedented caning will damage Malaysia's international standing as a progressive and moderate Islamic country.
Sometimes I feel sad and stressed as I have tarnished my family's name. But now after spending time reading the Quran, I feel calm and am not afraid of being caned

Kartika Sari Dewi Shukarno
"Mother of all sins"
Kartika said she never expected the court to impose the sentence.

"But I accept it as consuming alcohol is the mother of all sins for a Muslim," she said.

Sitting between her doting father Shukarno Mutalib, 60, and her 56-year-old mother Badariah Mior Salim, Kartika said her family and the 500 people of their village in Perak state have rallied around her.

Religious authorities caught her drinking at a hotel in Kuantan, the state capital of the central Malaysian state of Pahang.

Kartika said she had three glasses of beer before the hotel was raided in what she said was her second time drinking alcohol. She and the other patrons were asked to provide urine samples.

"I was initially angry. But I did not scold her," said Shukarno, who operates a lodge by the Perak river in nearby Jawa village.

"I believe my daughter is the chosen one by Allah to remind Muslims not to drink. I heard many (Muslims) were arrested for beer drinking that night but were mysteriously freed," he said with a smile.

She is strong and is ready to accept the caning. But many people warn me that she will be traumatized. So we have a plan to send her to Mecca to overcome her painful ordeal," he said.
I believe my daughter is the chosen one by Allah to remind Muslims not to drink. I heard many (Muslims) were arrested for beer drinking that night but were mysteriously freed

Shukarno Mutalib