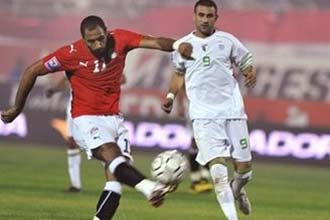 Ramadan is for rest days: football player
Siena's Ghezzal says hard to fulfill religious duties
Practicing Muslim Abdelkader Ghezzal celebrated the start of Ramadan, his religion's holy month of fasting, with a goal in Siena's 2-1 home to defeat to AC Milan but then admitted he would not be able to fulfill his religious obligations.

During the month of Ramadan, practicing Muslims fast between daylight hours, abstaining not only from food but also drink, including water.

Such a practice is made that much tougher in the summer months in Europe when the days are longer than in Saudi Arabia, where the religion was founded, and humidity as well as temperature creeps up.
13 hours of fasting
Much of Italy is currently experiencing temperatures between 35 and 40 degrees Celsius while sunset is at around 6.30am and sundown not until around 8pm.

That means a Muslim would have to fast for more than 13 hours and for a professional sportsman that challenge becomes even harder.

And Ghezzal, who was born in France to Algerian parents but plays his international football for the African country, admitted that for him it simply would not be possible to play to his maximum potential if he were to observe Ramadan.

"I observe the fast during my days off, when there are no games or training," he revealed.

"I've always observed Ramadan but I have had to change my habits for health reasons from the first year that I became a professional.

"I was at Crotone (then in Serie C1 but now in Serie B) but after two weeks I felt ill and had to stop."
I observe the fast during my days off, when there are no games or training

Abdelkader Ghezzal
Health risks
Not all Muslim footballers or athletes stop fasting during Ramadan, though, and Ghezzal insists it is a matter of each person's constitution.

Some players can handle it, others simply can't.

"It depends on your physical constitution. I'm a player who never holds anything back," added the 23-year-old.

"However Houssine Kharja, my team-mate last year at Siena who is now at Genoa, manages to observe it completely, except for match-days."

Despite eating and drinking normally during Ramadan, Ghezzal insists he is not a fair-weather Muslim.

"Playing football is a way to earn a living. You're not asked to make yourself ill but to observe the fast if the conditions are right," he added.

Some players such as Arsenal's Samir Nasri and Manchester City's Kolo Toure have also previously admitted to not observing Ramadan if it falls during the football season.

However, others such as Chelsea's Nicolas Anelka and Momo Sissoko of Juventus do continue to fast despite the demands of playing.

Inter Milan's Ghanaian Sulley Muntari is also Muslim.

He was substituted in Sunday's draw with Bari and coach Jose Mourinho explained that in his view "Muntari had some problems related to Ramadan - perhaps with this heat it's not good for him to be doing this (fasting).
Playing football is a way to earn a living. You're not asked to make yourself ill but to observe the fast if the conditions are right

Abdelkader Ghezzal