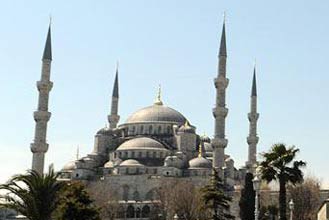 Danish far-right launches anti-mosque campaign
New Copenhagen mosque to be built by Shiites
The extreme-right Danish People's Party, a key government ally, launched a media campaign Wednesday against the building of mosques, after Copenhagen city council approved the country's first.

Full page advertisements published in several daily papers claimed that part of the funds for the new mosque would come from "the terror regime in Iran," while a second mosque planned for the capital would be financed by Saudi Arabia.
The ads also contained a picture of the Blue Mosque in Istanbul with a photo montage of two swords on the dome.

The party, whose votes in parliament are essential for the survival of the center-right government, linked its campaign to the municipal elections on November 17.

The new Copenhagen mosque, approved by the city council late last month, will be built by the city's Shiite Muslim community on the site of a former factory.

A 24-meter high blue dome will cover the 2,000-square-meter place of worship flanked by two 32-meter-high minarets in northwest Copenhagen.

But no calls to prayer will blare from the towers in order not to disturb the surrounding working-class neighborhood.

Denmark has had a tense relationship with the Muslim world since a Danish newspaper published in 2005 satirical cartoons of the Prophet Mohammed, sparking anger and protests in several Muslim nations.

The mosque, financed through private donations, will cost between 40 million and 50 million kroners ($7.9 million) to build.

Denmark's 200,000 Muslims make up 3.5 percent of the population and are the country's second largest religious community after the state-run Lutheran Church.