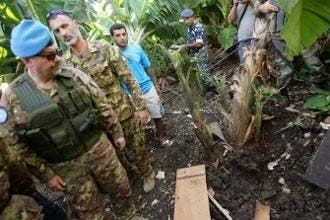 Israel hits back at Lebanon after rocket fire
Israel fires back with 15 rockets at Lebanese village
At least 15 Israeli rockets hit the southern Lebanese village of al-Qlaileh on Friday shortly after two rockets were fired from it towards Israel, a security official said.

Residents of northern Israel said they heard explosions but there were no immediate reports of casualties or damage.

"Debris from at least one Katyusha rocket fired from south Lebanon were found in the area of the city of Nahariya and Kibbutz Gesher Aziv," a police official told AFP.
Public radio said the Israeli armed forces responded with artillery fire against the Lebanese village from which the rockets were fired.

An Israeli military spokesman confirmed that Israel fired about a dozen artillery rounds in response to several rockets.

The Israeli army holds the Lebanese government responsible for preventing such attacks, the spokesman said.

In Lebanon, ambulances were rushed to the village from the port city of Tyre, nine kilometres (five miles) away.

Both Washington and the United Nations condemned the violence and urged continued adherence to a 2006 truce that ended a month-long war between Israel and Hezbollah.

P.J. Crowley, a spokesman for the U.S. State Department, said the rocket fire was in "clear violation" of that ceasefire and showed "the urgent need to bring arms in Lebanon under control of the state."

United Nations Secretary-General Ban Ki-moon urged both sides, in a statement, to exercise restraint and said U.N. peacekeeping troops known as UNIFIL were "investigating the circumstances of the incident."

It was the first time since February that rockets had been fired from Lebanon into Israel, raising tensions along a border that remains volatile three years after a war between the Jewish state and Hezbollah Islamist guerrillas in Lebanon.

Occasional salvoes since then have been blamed by Israeli, Lebanese and U.N. peacekeeping forces in the area largely on fringe militant groups rather than on Hezbollah, the Iranian- and Syrian-backed Shi'ite movement which remains a powerful force in Lebanon, especially in the south.

During Israel's offensive against Hamas Islamists in the Gaza Strip in January, Hezbollah denied responsibility for several rockets fired from Lebanon. Security officials have said small groups active among Palestinian refugees or with links to al Qaeda were more likely to have mounted the attacks.