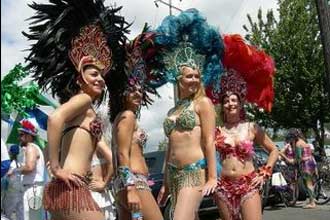 Samba spurned in Lebanese Muslim town
Scholars fear trouble from Samba street dance
A group of Lebanese Muslim scholars on Thursday called for a Brazilian samba troupe to be banned from performing in the southern coastal city of Tyre on moral and religious grounds.

"This is a pornographic dance group that goes against our ethics," Sheikh Ali Yassin, one of 50 religious leaders who are calling for the cancellation, told AFP.
"We fear that once they start dancing nude in the streets, there will be trouble," Yassin added. "Our society will not accept such a parade.

"The city of Tyre is a city of resistance and its history is that of a conservative Muslim city."

The Brazilian troupe has been performing throughout Lebanon since September 23 as part of a festival and planned a final performance in Tyre on Thursday evening.

Roberto Medeiros, ministerial adviser and cultural attaché at the Brazilian embassy in Beirut, told AFP that measures had been taken to respect the sensitivities of the mainly Muslim population in Tyre, including having the dancers cover their bodies rather than perform in skimpy clothes.

"We met with the local authorities and informed them that the dancers would dress respectfully with all their bodies covered," Medeiros said.

Yassin, however, said he had been shown photographs of the costumes and still deemed them inappropriate.
We fear that once they start dancing nude in the streets, there will be trouble

Sheikh Ali Yassin