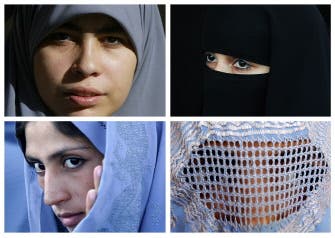 Canadian Muslim group calls for burka ban
Burka stems from Qaeda and Taliban: founder
A Canadian Muslim group is calling on Ottawa to ban wearing the burka in public, the group's founder told Al Arabiya on Thursday.

Tarek Fatah, founder of the Muslim Canadian Congress (MCC), told Al Arabiya that there were many reasons to ask for this ban including security.
"A bank was robbed by people wearing burkas. It is a real risk."

The burka, Fatah added, stems from extremists and does not represent Islam's true meaning.

"The Quran teaches modesty, however it does not have one word about covering the face. It is a tribal custom that is promoted by extremists such as al-Qaeda and the Taliban."

Fatah added that surprisingly, it is women raised in Canada that are the majority of burka wearers. "They are mostly second generation Pakistani or Bangladeshi."

Fatah, originally from Pakistan himself, added that the burka harms women by decreasing their chances of getting employment and encouraging a distorted practice of Islam where women's rights are undermined.

In August of 2009 Muslim French minister Fadela Amara called for a ban on the burka calling it the "cancer" of radical Islam in an interview with the Financial Times newspaper.

"Those who have struggled for women's rights back home in their own countries, I'm thinking particularly of Algeria, we know what it represents and what the obscurantist political project is that lies behind it, to confiscate the most fundamental of liberties," said Amara.

On Tuesday, Egypt's top Islamic school al-Azhar's Sheikh Mohammed Sayyed Tantawi, banned women from wearing the burka or face veil inside all its affiliate schools inciting students to stage demonstrations.

Controversy arose in Quebec in 2007, when an election official said veiled Muslim women would have to take off their veil if they wanted to vote.
The Quran teaches modesty, however it does not have one word about covering the face. It is a tribal custom that is promoted by extremists such as al-Qaeda and the Taliban

Tarek Fatah, founder of the Muslim Canadian Congress
A "minuscule" issue
Wahida Valiante, chair and president of the Canadian Islamic Congress, believes such bans violate people's rights and create an "unhealthy environment" in a country known for "understanding and celebrating people's difference."

Valiante said that the burka issue was "minuscule" and that by drawing attention to it the image of Islam was being tarnished in the process. She added that there was no research done or statistics given on burka wearers to support the ban request.

"Why is this such an issue to them?" Valiante said."These girls are causing no harm to themselves or society."
Why is this such an issue to them? These girls are causing no harm to themselves or society

Wahida Valiante, chair and president of the Canadian Islamic Congress
Burka not the issue
Fatah insisted the issue was not the burka itself but the distorted practice of Islam that those promoting the burka have.

"Islam is such a simple religion. It has no pope, no Imams, only the love of Allah… We must oppose extremists in every way we can. We must fight for peace."

The proposal calls for the banning of not only burkas but also masks and niqabs. However, it does not call for the banning of the hijab which covers just the hair.

The MCC's mission states it is "a grassroots organization that provides a voice to Muslims who are not represented by existing organizations; organizations that are either sectarian or ethnocentric, largely authoritarian, and influenced by a fear of modernity and an aversion to joy."
Islam is such a simple religion. It has no pope, no Imams, only the love of Allah… We must oppose extremists in every way we can. We must fight for peace

Fatah