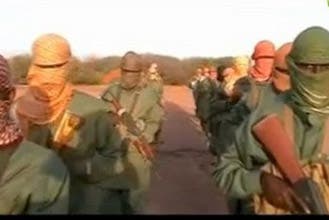 Somalia's Shabaab destroy mosque & Sufi grave
Insurgents target Sufi sites in Somali town
Hardline al-Shabaab rebels have destroyed a mosque and the grave of a revered Sufi Muslim sheikh in central Somalia after shooting in the air to drive away local protesters, residents said on Monday.

Al-Shabaab, which Washington says is al-Qaeda's proxy in the failed Horn of Africa state, has targeted Sufi holy sites and religious leaders in the past, saying their practices go against the insurgents' strict interpretation of Islamic law.

The rebel group is waging a stubborn insurgency against the fragile U.N.-backed government of President Sheikh Sharif Ahmed.
Witnesses said residents in the small town of Galhareeri tried to stop al-Shabaab fighters late on Sunday, but the rebel gunmen opened fire in the air, forcing everyone to flee.

"They destroyed the grave of Sheikh Ali Ibaar and our mosque. They also knocked down our Islamic university," local elder Hassan Ali said.

"We are now just squatting among the trees on the outskirts of the town. We do not know where to flee."

Fighting in Somalia has killed 19,000 civilians since the start of 2007 and driven another 1.5 million from their homes.

Al-Shabaab insurgent group has shocked many Somalis, who are traditionally moderate Muslims, with its stern version of Sharia (Islamic law,) which has involved amputations for thieves -- and most recently the whipping in public of women for wearing bras.

Al-Shabaab fighters have also banned movies in territory under their control, as well as forbidding musical telephone ringtones, dancing at weddings and playing or watching soccer.

Some residents, however, give the rebels credit for restoring a degree of law and order to parts of the country.

Ali Yasin Gedi, vice chairman of Mogadishu's Elman Peace and Human Rights Organization, told Reuters that Sunday's attacks in Galhareeri were a violation of the freedom to worship.

"It is against Islam to violate human rights," he said.
They destroyed the grave of Sheikh Ali Ibaar and our mosque. They also knocked down our Islamic university

Somali local elder Hassan Ali