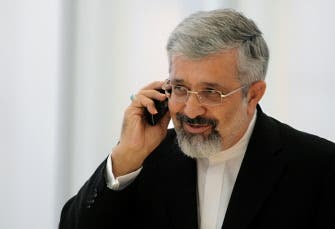 Iran & powers mull uranium draft agreement
ElBaradei hopes for "affirmative action" by Friday
A draft agreement has been drawn up after talks between Iran, Russia, the United States and France on the supply of enriched uranium to Tehran and has been sent to the capitals for approval by Friday, the head of the United Nations atomic watchdog Mohamed ElBaradei said Wednesday.

"I have circulated a draft agreement that reflects in my judgment a balanced approach on how to move forward," ElBaradei told reporters after crunch talks here.

"The deadline for parties to give, I hope, affirmative action is Friday."
Diplomats said ElBaradei's draft contained the powers' call for Iran to send some 75 percent of its enriched uranium reserve abroad before the end of this year for conversion into fuel for a Tehran reactor producing medical isotopes.

This would reduce the high risk cited by the West of Iran, under suspicion over nuclear secrecy and restrictions on IAEA inspections, using a growing low-enriched uranium stockpile to refine to high purity suitable for atom bombs.

Iran's delegation chief did not say whether Tehran would endorse the draft deal.

The talks, which had started Monday and finished just after midday Wednesday, had been on a proposal for France and Russia to enrich below-weapons grade uranium for Iran.

But Tehran made it clear that it did not want France to be part of any deal.
I have circulated a draft agreement that reflects in my judgment a balanced approach on how to move forward

IAEA chief
Western powers want greater control of Iran's uranium which they fear is being used to build a nuclear bomb.

Russia, France and the U.S. have all been pushing Iran to move forward an agreement -- reached in principle in Geneva on Oct. 1 -- under which Tehran would ship 1,200 kilograms of its own stockpiled uranium to Russia, and subsequently France, by the end of the year.

But ElBaradei did not reveal whether Iran had finally agreed to that key point.

The head of the Iranian delegation, IAEA ambassador Ali Asghar Soltanieh, said only that Iran would be in an position to "get the fuel" for an Iranian research reactor which makes isotopes for medical uses such as cancer treatment.

"All the details will be revealed Friday," Soltanieh told reporters.

Western powers suspect Iran has embarked on research to build a nuclear bomb. Iran has denied the claims, but has been accused by the IAEA of not cooperating with efforts to determine whether its atomic program is peaceful.
All the details will be revealed Friday

Iranian delegation