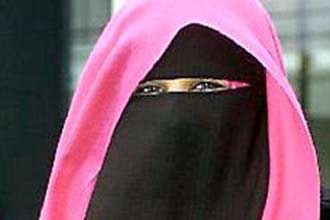 UK college bans Muslim student over burka spat
Student denied enrolment after refusing to show her face
A college in the United Kingdom has banned a Muslim student from enrolling because she refused to take off her burka, or face veil, press reports said Saturday.

Shawana Bilqes, 18, was turned away from enrollment after she refused a staff member's request to remove her burka for identity fraud purposes, Britain's the Sun tabloid reported.
Bilqes said she tried to compromise with staff but could not remove her burka because of her religious beliefs. Muslim scholars say the burka is not obligatory in Islam and is a cultural practice rather than Islamic.

"I tried to compromise but they wouldn't. The college sent me a letter to say I could continue with my course if I stopped wearing the veil," the paper quoted Bilqes as saying.

"We are in the twenty first century and we get people from all walks of life. I'm in the police cadets as well and yet it's not a problem wearing the veil there," Bilqes said.

Burnley College principal, John Smith, defended the institute's decision and said: "The highest standards of learning require unimpeded communication with students."

"This is not possible if the face is not fully visible," Smith said, adding all staff and students were obliged to wear a tag showing their face for security reasons.
I tried to compromise but they wouldn't. The college sent me a letter to say I could continue with my course if I stopped wearing the veil

Shawana Bilqes