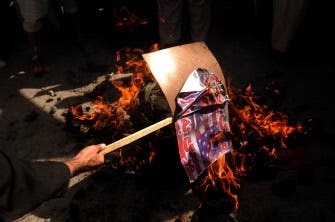 Afghans accuse US troops of burning Quran
Thousands gather in Kabul, burn effigy of Obama
At least one thousand Afghans took to the streets of Kabul on Sunday to protest against what they said was the desecration of a copy of the Quran by foreign troops during a raid last week.

As police fired into the air to break up the crowd, thick smoke rose above the crowd, who burned an effigy of American President Barack Obama and chanted anti-American slogans.
"No to democracy. We just want Islam," said one banner carried by protesters, who expressed their desire for foreign troops to leave the war-torn country.

Others threw stones and clashed with police but no casualties were reported.

"Death to America. Down with Israel," chanted one man at the rally, which was organized mainly by university students.

The protestors, which blocked traffic around the capital's parliament building for an hour, accused foreign forces of burning a copy of Islam's holy book during a raid in Maidan Wardak province last week.

"The arrest and punishment of the culprits is the demand by all students and the students would continue peaceful protest despite police surrounded them forcing to disperse," China's official news agency, Xinhua, quoted a protestor as saying.
Blame Taliban
Meanwhile as spokeswoman for U.S. and NATO-led forces in Afghanistan said none of their troops were involved in the incident and blamed the Taliban for spreading a false rumor that a copy of the Quran had been burned.

Captain Elizabeth Mathias, a media officer for U.S. and NATO-led forces in Afghanistan, said the Taliban were trying to undermine foreign troops by spreading the rumor.

"We did not burn a Quran ... It is unfortunate that the protesters believe a Taliban rumor," Mathias said, adding an investigation had been carried out.

The Taliban could not be reached immediately for comment.

Afghanistan has seen protests in the past over similar incidents, as well as over cartoons depicting the Prophet Muhammad as a terrorist in a Danish newspaper in 2006.


[With Agencies]