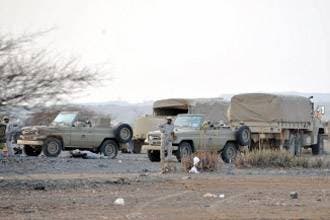 Yemen denies Saudi air strike targeted its soil
Saudi air force hits Yemen rebels after border raid
A Yemeni Defense Ministry official denied on Thursday that Saudi forces had struck targets inside Yemen, after Shiite rebels launched a cross-border attack into Saudi Arabia earlier this week.

"Saudi Arabia did not hit targets in Yemen," the official told Reuters, but declined to give further comment on reports that the kingdom's air force had attacked rebel positions.

A Saudi government adviser said earlier on Thursday that the kingdom had launched heavy air strikes on rebel camps on the border region of Jabal al-Dukhan and moved ground troops nearer the border against them after they killed a Saudi border guard and wounded 11 others on Tuesday.
"Clean out"
Jets have been bombing the positions of the Zaidi Shiite rebels near the border with southern Jizan province since Tuesday, the source said, asking not to be named because operations were still going on.

"This is not a hit and run, this is a sustained action" that could involve a ground incursion into Yemen to "clean out" the rebel camps in coordination with Yemen authorities, he said.

Saudi Arabia, the world's biggest oil exporter, has become increasingly anxious about instability and militancy in Yemen, which is also facing separatist sentiment in the south and a growing threat from resurgent al-Qaeda fighters.

Saudi Arabia said on Wednesday a security officer was killed and 11 were wounded in an attack by gunmen who had crossed the border from Yemen -- the first such reported incursion since the long-running Houthi revolt flared up again in August.

The Saudi government adviser said no decision had yet been taken to send troops across the border, but made clear Riyadh was no longer prepared to tolerate the Yemeni rebels.

"After what happened yesterday, it is clear they have lost track of reality and it has got to a point where there is no other way. They have got to be finished," he said.
Saudi fears
An al-Qaeda group said on Thursday it was behind an ambush this week in which seven Yemeni security officials were killed.

The Shiite rebels, known as Houthis after the family of their leader, said on Wednesday they had taken control of the Jabal al-Dukhan area after defeating Saudi forces there.

The 1,500 km (930 miles) border between Yemen and Saudi Arabia is a security worry for the kingdom, which is building a high-tech border fence to prevent infiltration.

Saudi Arabia and the United States fear the conflict in Yemen's north and a separatist movement in the south will loosen already tenuous government control and empower al-Qaeda.

Such fears rose in August, when a Yemen-based suicide bomber posing as a repentant al-Qaeda militant tried to kill Saudi Arabia's counter-terrorism chief, a member of the royal family.

Arab countries such as mainly Sunni Muslim Saudi Arabia and Egypt fear Shiite power Iran could gain influence in Yemen through the Houthis. The rebels deny getting any help from Tehran, which has offered to mediate in the conflict.

Yemen's army launched Operation Scorched Earth in August to crush the rebellion. Aid groups say around 150,000 people have been displaced by the fighting, which first broke out in 2004.

The rebels say they are fighting political, economic and religious marginalization by Yemen's central government.