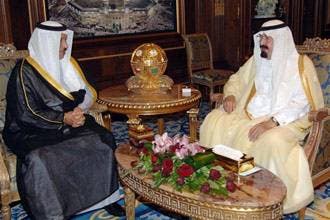 KSA capable of deterring attackers: Saudi King
Saudi Arabia regains area seized by Yemen rebels
King Abdullah bin Abdul Aziz said that Saudi Arabia is "capable of deterring any attackers," in his first comments since the development of security situations on the Saudi-Yemeni borders last week.

The Saudi royal made the comments during his meeting with the visiting Kuwaiti Deputy Premier and Defense Minister Sheikh Jaber al-Mubarak, who handed his majesty a message of solidarity and support from Kuwait's Emir.

Saudi Arabia said earlier it had regained control of territory seized by Yemeni rebels in a cross-border incursion last week as the kingdom's deputy defense minister said four Saudi soldiers were missing after fighting between Saudi forces and Yemeni rebels.
"The situation is calm ... especially in Jabal Dukhan, of which full control has been regained," Prince Khaled bin Sultan bin Abdul-Aziz, assistant minister for defense and aviation, was quoted by the Saudi Press Agency (SPA) as saying.

Four Saudi soldiers were missing, Prince Khaled said, but said they had not been taken prisoner. He also said Saudi security forces had also arrested a number of rebels.

"There were five missing and one came back. They are missing and not prisoners" of war, Prince Khaled said.

Houthi rebels inside Yemen said on Saturday that they had captured Saudi soldiers.

"With Allah's help, the Saudi tyrannical advance into Yemen's territory has been defeated," a statement on the rebels' website said.

"A number of its troops have been captured and several military vehicles and supplies been seized."
The situation is calm ... especially in Jabal Dukhan, of which full control has been regained

Prince Khaled -- Deputy minister of defense
Saudi army in control
Saudi Arabia on Thursday launched air strikes on rebels in northern Yemen after the Shiite insurgents crossed the border into the kingdom and said they had taken control of an area called Jabal Dukhan, which means "mountain of smoke."

Prince Khaled, who was inspecting Saudi forces on the country's southeastern border, also confirmed the deaths of three Saudi soldiers.

"The operation resulted in the death of three members of the security forces and the wounding of 15, most of whom have left the hospital," he said.

He also said that rebels had been captured, and that "some were questioned" by the Saudi authorities.

Prince Khaled said the Saudi army was in control of the situation on the border.

The rebels, referred to as Houthis after the clan of their leader Abdel-Malik al-Houthi, said on Friday they had captured some Saudi soldiers.
The operation resulted in the death of three members of the security forces and the wounding of 15, most of whom have left the hospital

Prince Khaled