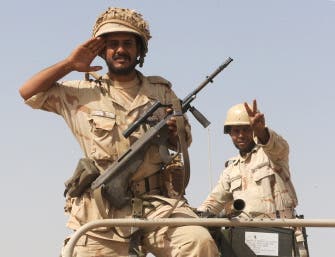 Yemen rejects Iranian "interference" in its affairs
Saudi to pay compensation for displaced: prince
Yemen hit out on Wednesday at what it called Iranian "interference" in its affairs after Tehran's foreign minister said his country could help Sanaa restore security as it attempts to crush the Shiite Houthi rebels.

"In response to the remarks of (Iranian Foreign Minister Manouchehr) Mottaki, we affirm that Yemen categorically rejects any interference in its internal affairs by any party whatsoever," the official Saba news agency quoted a foreign ministry spokesman as saying.
"Yemen also rejects any attempt by any party to represent itself as the protector of sons of the Yemeni people."

Mottaki told a news conference in Tehran on Tuesday that "countries of the region must seriously hold back from intervening in Yemen's internal affairs."

"Those who pour oil on the fire must know that they will not be spared from the smoke that billows," he said.

Mottaki warned against regional intervention in Yemen, where the Shiite Houthi rebels and Saudi troops have been engaged in fighting in the border area for the past week.

Yemeni government forces launched Operation Scorched Earth against the Zaidi rebels in the north on Aug. 11 and the conflict widened last week when neighboring Saudi Arabia also entered the fray.

The government in Sanaa has accused Iran of supporting the rebels, and in October announced it had captured five Iranians attempting to smuggle a boatload of weapons to them.
Iran is prepared to cooperate with the government of Yemen and other nations in order to restore security in Yemen

Iran FM
Houthi weapons
During the early hours of Wednesday morning Saudi forces continued to shell several cities on the border were subjected to intense and "unprecedented" bombing with the sounds of hovering warplanes and artillery shelling audible almost 20 kilometers away from the site.

Villages like al-Ghawia, al-Madfan and al-Janaa are being used by small groups of Yemen's Houthi rebel snipers, according to information obtained by Al Arabiya, but after intense bombing most suspects have been leveled to the ground.

Saudi's artillery consists of helicopters, apaches and various types of warplanes like the F-15 and Tornado but there have been no reports issued about casualties so far.

Attacks have been intensified to prevent small groups from sneaking across the border, especially after unofficial reports said the insurgents had recruited around 3,000 fighters of different nationalities and distributed them among small pockets, which were promptly destroyed upon their discovery.

The media revealed the hiding places of Houthi weapons in the district of al-Khauba in the governorate of al- Hudaydah and officials uncovered boxes filled with swords, daggers, more than 1,000 machine gun cartridges, Kalashnikov guns and 17 scrolls hidden in sugar cane stalks.

Military observers insist the weapons belong to the Houthis and not al-Qaeda, as was initially suggested. Observers also stressed that the Houthis are getting weapons from inside Yemen and that suppliers are evading Yemen's army.
Saudi to pay compensation
Meanwhile Mohamed bin Nasser, the Prince of Jizan, announced that Saudi will compensate those displaced by the bombings and compensation will include housing and foodstuffs.

Bin Nasser said a minimum of 1,000 riyals (more than $250) per month would be given to parents and 200 riyals (around $50) for each of their children. Based on instructions from the Saudi government special committees will immediately be formed to facilitate the procedures and expedite the payment.

The new houses provided for the displaced will be under surveillance by the security forces.

Saudi Minister of Education stressed that Saudi schools are willing to admit students from displaced families in the province of Jizan and will facilitate all the necessary enrollment procedures.

More than 5,000 students were forced to leave school after Yemen launched its Operation Scorched Earth to root out Houthi rebels.