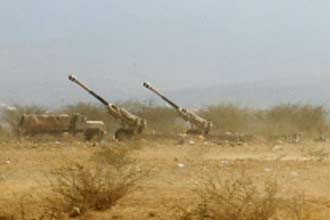 Pakistanis fighting in Yemen with Houthis: report
Saudi arrests sorcerer planting magic on Yemen border
Yemen's Houthi rebels have Pakistani fighters in their ranks, press reports revealed Sunday, as Saudi Arabia arrested a sorcerer on its border with Yemen attempting to plant magic spells in the conflict zone in support of the rebel group.

Pakistani fighters are helping the Houthi rebels with their conflict against Saudi Arabia, Al Arabiya TV reported, quoting Yemen's Foreign Minister Abu Bakr al-Qirbi as saying: "The way the Houthi militias operate and the amount of money they spend on the conflict make the involvement of foreign powers almost a certainty."
"The Yemeni intelligence is investigating the involvement of external parties in supporting the Houthi insurgency," Qirbi said. "This is a conspiracy to destroy Yemen and the Houthis will pay dearly for that."

Saudi forces evacuated 420 border villages as Houthi rebels had previously infiltrated the kingdom, which Qirbi said was an act of terrorism that should be severely punished.

Meanwhile the United States warned that the conflict between the Yemeni government and Houthis could have grave consequences as far as the security of the Gulf region is concerned.

Qirbi denied allegations that the Yemeni government asked for security and military support from the U.S. but said "however there is bilateral security cooperation between the two countries in the war on terror," he said.
The way the Houthi militias operate and the amount of money they spend on the conflict make the involvement of foreign powers almost a certainty

Yemeni FM
Border sorcerer
Meanwhile Saudi's armed forces arrested a sorcerer attempting to plant magic spells in the conflict zone in support of the Houthis, the Saudi newspaper Okaz reported.

The paper reported that army officers spotted a "strange-looking" man with long dirty nails and thick entangled hair pulled back in disheveled braids wondering the border town of Jabal Dukhan.

The man was initially believed to be a refugee fleeing the conflict but security forces searched him and found amulets, animal remains and scrolls containing symbols.

The detainee admitted he was planning to plant amulets in the conflict zone to help the Houthi rebels sneak across the border and win their war against Saudi Arabia.

When asked why he had long nails, he claimed that he is obeying the order of the jinns, or spirits.

"The jinns will be infuriated and will kill me if I trim or clean my nails," he told his interrogators.



(Translated from Arabic by Sonia Farid)