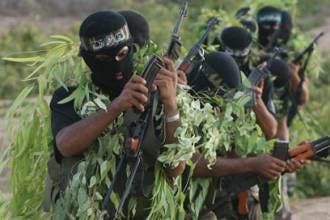 Gaza armed groups agree to halt rockets: Hamas
Seven Palestinians injured as Israeli warplanes bomb strip
Hamas's armed wing on Sunday announced that armed groups in its Gaza Strip stronghold had finalized a deal to stop firing rockets into Israel, but said they would respond to Israeli raids, one of which coincidentally happened also on Sunday, injuring seven Palestinians.

"The agreement between (Ezzedine) Al-Qassam (Brigades) and other factions to stop rocket (fire) is not a sign of weakness," the group said in a statement.

The agreement is "aimed at keeping together the internal front and the supreme national interest of the Palestinian people."
It warned, however, that the groups would respond in the case of Israeli strikes on the territory.

"Al-Qassam Brigades will not stand idly by in case of a Zionist escalation and will defend ourselves with all our force."

The statement was released a day after a rocket was fired into Israel from Gaza, landing without causing injuries or damage, and hours after the army responded with three air raids that wounded eight Palestinians.

An Israeli army spokesman said one of the strikes had targeted a factory in central Gaza used to make weapons. Palestinians said the target was a metal foundry.

Palestinian medical workers and witnesses said other targets included a caravan in the northern Gaza Strip and underground tunnels in the south under the border with Egypt.

It marked the latest violence along Gaza's border, which has been mostly quiet since a war that Israel launched air, land and sea attacks on Gaza on Dec. 27 resulting in the murder of more than 1,400 Palestinians.