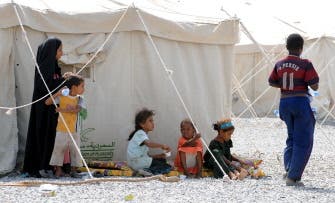 Yemen's houthis slammed for using child soldiers
Saudi air forces continue to bomb rebel hideouts
Humanitarian agencies working in Yemen slammed the Houthi rebel group for using children in the armed conflict in the Saada province as Saudi Arabia's air force continued to bomb several rebel hideouts on its border with Yemen, press reports said on Monday.

Representatives of the UNICEF and Islamic Relief Worldwide held a press conference in which children from Saada testified to the daily horrors they face, including being forced to take part in the conflict.
Nassim al-Rahman, UNICEF representative in Yemen, expressed his indignation at the violation of children's rights in Saada while the Shawthab Foundation for Children and Development, a Sanaa-based NGO, stated its absolute rejection of the recruitment of children under 18 in any armed conflict, whether to fight for the rebels or the Yemeni army.

Shawthab called on all relevant bodies and child relief organization to show no leniency as far as using children in war. The statement called for measures to be implemented against all parties involved in recruitment of children in the military as well as offering the guarantees that insure a normal life for those children.
Meanwhile, Saudi forces bombed several rebel hideouts, forcing the Houthis to withdraw further back into Yemeni territories.

The army thwarted an attack by the Houthis in the border area of Jabal Rumaih and bombed hideouts in Jabal Dukhan and Wadi al-Mouked, killing several insurgents, Al Arabiya News Channel reported.

Yemen's army said it was making progress in the northern governorate of Saada by curbing rebel operations and aborting a rebel infiltration in to the area of al-Makash.

Several Houthi rebels were killed in Malaheez, where intense fighting is still going on, as the Yemeni army continued bombing many areas in Harf Sufian, Wadi Ayan and al-Haira.


(Translated from Arabic by Sonia Farid)