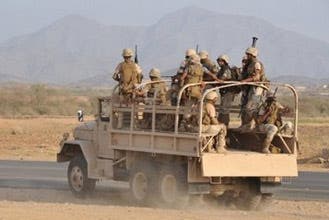 Saudi denies military troops entered Yemen
King Abdullah tackles Mideast peace with Spanish PM
Saudi Arabia denied on Wednesday reports that its military encroached on Yemen territory to attack Shiite rebels in their homeland, as King Abdullah bin Abdul Aziz held talks with the visiting Spanish Prime Minister.

A senior defense ministry official said reports in various media that Saudi forces had attacked the rebels inside Yemen territory were "lies" and "fabrications," the state news agency SPA reported early Wednesday.

The unnamed defense official noted that Saudi King Abdullah bin Abdul Aziz had expressly ordered the armed forces only to expel the Houthi rebels from Saudi territory and not to cross the border, SPA said.
Houthi lies
Earlier, on Tuesday the Houthis, Zaidi Shiites locked in a five-year-old war with the Yemen government, said they had repelled a multi-pronged assault involving air raids and ground shelling launched by Saudi forces along the border on Monday.

"The Saudi attack continued on three fronts, but two were broken by Monday evening," it said.

Witnesses in the frontier area told AFP that clashes between the Saudis and rebels continued on Tuesday, and that there were intense artillery strikes and air raids on Houthi positions all along the border.

But it was not clear if the bombardment and air raids were carried out by Saudi or Yemeni forces.

In August Yemen's government launched a "Scorched Earth" campaign against the Houthis, who Sanaa says aim to undermine the government.

On Nov. 4 Saudi forces overtly joined the fight for the first time using air and heavy artillery strikes after a small band of Houthis entered Saudi territory and killed a border guard.
Talks with Spanish PM
King Abdullah, meanwhile, held talks with Spanish Prime Minister Jose Luis Rodriguez Zapatero on boosting bilateral ties and the situation in the Middle East, SPA reported on Wednesday.

The two leaders met in the monarch's Jeddah palace soon after Zapatero arrived in the kingdom on Tuesday evening, SPA said.

Aside from exchanging views on latest international developments, including the Middle East, they also discussed ways to strengthen cooperation and ties between their countries, it said.

Zapatero, whose country takes over the rotating presidency on the European Union on Jan. 1, arrived from Cairo where his visit was dominated by discussions with Egyptian leaders on the stalled Middle East peace process.

Talks between the Israelis and the Palestinians have been suspended since Israel's offensive in Gaza at the turn of the year.


(With Agencies)