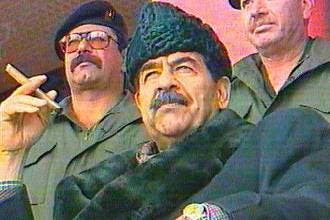 Saddam ordered attack on Radio Free Europe: TV
Wanted secret agents to disrupt broadcasting from Prague
Saddam Hussein ordered his secret agents to attack the Prague headquarters of U.S. run Radio Free Europe/Radio Liberty to end broadcasting to Iraq, a Czech intelligence service spokesman said on Sunday.

The attack was ordered by the then Iraqi leader in 2000 and Iraqi intelligence agents planned to use weapons including rocket propelled grenades, Kalashnikov rifles and submachine guns, spokesman Jan Subert told Czech TV Nova.

"Saddam Hussein ordered his intelligence to violently disrupt Iraqi broadcasting of the Radio Free Europe and for this operation he provided significant financial means," Subert told the station.

He said the weapons had been stockpiled for the attack after they were brought into the country in an Iraqi diplomatic car.

It was not known when the attack was due to take place but Subert told the television station that Czech intelligence discovered the plot and the Iraqis submitted the weapons to Czech authorities in 2003.

The plan was for the attack to take place from the window of a nearby flat that the Iraqis planned to rent as an office for a fake company, he said.

There were fears the broadcaster, financed by the U.S. Congress, might be target of an attack after the Sept. 11 attacks in the United States.

In 2003, the police and the army temporarily boosted security in and around the radio station's offices, located at the top of Wenceslas square in the historic centre of Prague at an old communist parliament premises.

The headquarters have since been moved to a new closely guarded building in a neighborhood on the outskirts of Prague.
Saddam Hussein ordered his intelligence to violently disrupt Iraqi broadcasting of the Radio Free Europe and for this operation he provided significant financial means

Spokesman Jan Subert