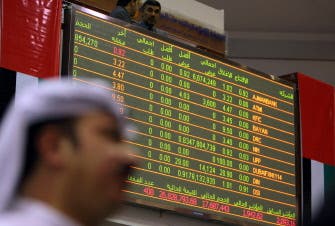 Dubai & Abu Dhabi markets plunge on debt woes
Nakheel asks to suspend trading of its Islamic bonds
Stock markets in the Gulf emirate of Dubai and its neighboring capital of Abu Dhabi fell sharply on Monday and then ground to a halt amid a lack of buyers after Dubai World's shock proposal to suspend debt payments.

Dubai's benchmark DFM Index dropped by 7.30 percent as leading securities, including construction and finance, plunged almost by the maximum-allowed limit of 10 percent at the opening, which followed the four-day Eid holiday.
The market was trading in the midday session at 1,940.36 points, down 152.80 points from Wednesday's close, just before the Dubai government's shock announcement it wants to freeze debt repayments by Dubai World conglomerate for at least six months.

The DFM Index finished trading on Wednesday at 2093.16, up around 28 percent this year, though still two-thirds below its all-time highs two years ago.

The financial market of oil-rich Abu Dhabi also reacted negatively to Dubai's debt woes, dropping 8.24 percent to 2,670.44 points in midday deals.

The two markets have so far shed around $10 billion of their market capitalization.

Trading almost froze in both markets amid high offers to sell and negligible offers to buy, with Dubai market registering only 31.5 million dirhams ($8.6 million) in turnover -- less than 10 percent of average daily trade this year.

"This was expected because markets have panicked over exaggerated reports in the Western media," Al-Fajr analyst Hamam al-Shamaa told AFP.

"We expect to see many foreign portfolios withdrawing from the market. Their exit obviously terrifies local investors," he said, adding that the drop will continue on Tuesday.

"I do not expect investors to enter the market. Tomorrow will most likely be a similar day," he added, pointing out that the markets go into another four-day holiday starting Wednesday.

But he expected local markets to bounce back after the holiday. "I expect good news during the holiday," he said.
This was expected because markets have panicked over exaggerated reports in the Western media

Al-Fajr analyst Hamam al-Shamaa
Nakheel
Meanwhile, Dubai World property unit Nakheel, builder of the iconic Palm Jumeirah man-made island, asked to suspend trading of its sukuks, or Islamic bonds, listed on the Dubai-based Nasdaq Dubai exchange.

One of the key loans affected by Dubai World's planned debt moratorium is a Nakheel issue of $3.5 billion of Islamic bonds or sukuks, scheduled to mature on Dec. 14.

Securities listed by port operator DP World, part of Dubai World, on NasdaqDubai exchange dropped by 14.88 percent, and were the most active stock on the market, according to NasdaqDubai website

Investors failed to draw reassurance from the UAE central bank's announcement on Sunday that it was providing additional liquidity to the UAE banks.

Other Gulf stock markets have also been on holiday since Thursday for the Muslim festival of Eid al-Adha, sparing them an immediate impact from Dubai's announcement.

However, the news sent shock waves throughout other markets around the world on Thursday and Friday as investors feared a possible default by Dubai and its state-owned businesses, which together owe $80 billion.
I expect good news during the holiday

Shamaa
Asian shares
Asian shares rebounded on Monday, with Hong Kong's Hang Seng Index closing 3.25 percent higher at 21,821.5, recovering some ground after Friday's tumble of nearly five percent.

Dubai and Abu Dhabi are the only Gulf stock markets open on Monday. Kuwait follows on Tuesday and Saudi Arabia's financial market, the largest Arab bourse in capitalization, will remain on holiday until Saturday.

Dubai does not have big oil reserves, unlike Abu Dhabi which sits on around 95 percent of the UAE's crude deposits and runs the world's largest sovereign wealth fund valued by analysts at $400 to $500 billion.

Two Abu Dhabi-controlled banks subscribed to Dubai bonds worth five billion dollars in a deal announced a few hours before Dubai revealed its debt problems.

But doubts have been growing about Abu Dhabi's commitment to buoy Dubai, whose growth came to a screeching halt amid the global credit crunch before going into reverse gear.

Property prices in the once-booming desert city have slumped by 50 percent from their peak.