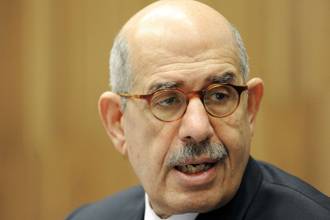 ElBaradei mulls running for Egypt's presidency
Ex-IAEA chief to run for Egypt's presidency if poll "democratic"
Former United Nations nuclear watchdog chief Mohammed ElBaradei said he would consider running for Egypt's presidency but only if the election process were democratic, in a statement published on Friday.

ElBaradei, who ended his 12-year stint as the head of the International Atomic Energy Agency (IAEA) on Friday last week, said he had been closely following calls for him to stand, the Egyptian independent daily al-Dostour reported.

But the 2005 Nobel Peace Prize winner conditioned the move on "guarantees of fairness," and for the 2011 presidential and parliamentary elections to "follow the process in democratic countries."
He called for "the establishment of a national independent body to organize all matters related to the election process," after reports of irregularities in 2005 elections when the National Democratic Party (NDP) secured 80 percent of parliament seats and President Hosni Mubarak won a fifth six-year term.

Elections must be "under the full supervision of the judiciary... and in the presence of international observers from the United Nations... to ensure transparency," ElBaradei was quoted as saying.

The 67-year-old also sought the removal of constitutional hurdles to allow all citizens to run for the top job.

"The position must be open to all Egyptians whether they are members of a party or independent, by removing the constitutional and legal obstacles hampering the rights of the majority," he added.

Egyptian law requires that presidential candidates nominated by their parties must have led or held senior rank within that party for at least a year, and that the party concerned must have been founded at least five years before the election.

Independent candidates must secure the backing of 250 elected politicians, including at least 65 members of the lower house, 25 members of the upper house and 10 members of municipal councils -- all bodies dominated by the NDP.

ElBaradei stressed the need for a new constitution "based on freedoms and human rights agreed upon internationally."

In October, members of the liberal opposition Wafd nominated ElBaradei to head the party so that he can become a presidential candidate.
Elections must be under the full supervision of the judiciary... and in the presence of international observers from the United Nations... to ensure transparency

Mahmoud ElBaradei, former IAEA chief