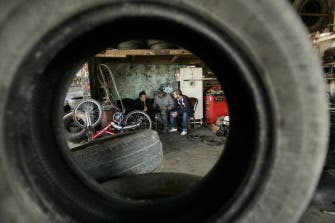 I was put on earth to suffer: Palestinian refugee
Thousands stuck in Lebanon limbo with no rights or hope
Saeed Mohamed Hammo technically does not exist as far as the world is concerned. But as he recounts his life as a Palestinian refugee in Lebanon, his story is very much real.

Hammo, 61, is among an estimated 3,000 to 5,000 so-called "non-ID Palestinians" in Lebanon who are considered illegal aliens and who have lived in legal limbo, many of them for decades.
They have no freedom of movement, no right to work and no access to medical services or education.

And their plight, due to be discussed on Monday during a brief visit to Lebanon by Palestinian president Mahmoud Abbas, is passed on to their children and grandchildren.

"These are people who are very much alive but at the same time they are not recognized as such," said Souheil El-Natour, a Beirut-based Palestinian analyst. "How can you consider a physically living person as non-existent?

"This is a complete negation of humanitarian principles."

Lebanon recognizes as refugees only Palestinians who fled here following the creation of the state of Israel in 1948.

The U.N. Relief and Works Agency for Palestine refugees (UNRWA) lists nearly 400,000 of them.

But Lebanese and Palestinian officials say the number of refugees actually resident in Lebanon may be as low as 250,000 as UNRWA does not strike off its figures Palestinians who move to other countries.
Black September
The majority of the non-ID Palestinians came to Lebanon in the 1970s following the events known as Black September, when Jordan kicked out the Palestine Liberation Organization (PLO) and thousands of Palestinian fighters.

As such, they are not considered refugees by Lebanese authorities and have no official status.

"Non-ID Palestinians live in harsh conditions and are deprived of some of the most important and basic human rights," Mireille Chiha, of the Danish Refugee Council office in Beirut, told AFP.

"They have no freedom of movement, can't purchase a car or motorbike and they don't benefit from the services of the U.N. agency for Palestinian refugees," she added. "Even within the refugee camps, they are referred to as the 'ghareeb' or foreigner.

"So they face additional hardships than those already faced by other refugees."

The issue of the non-ID Palestinians has grown in prominence since the end of Lebanon's 1975-1990 civil war as many of them have begun having children and grandchildren who have inherited their status.
On this earth to suffer
Ali Mahmud Ahmed Abu Ali, 62, arrived in Beirut in 1973 when he was a member of the PLO. He has since settled as a refugee and married twice in Lebanon.

His six children however have inherited his shadowy legal status and do not exist on paper.

"I am nearing the end of my life and my concern now is my children," he said, sitting in his small flat in the Burj el-Shemali camp in the southern coastal city of Tyre. A picture of the late PLO leader Yasser Arafat hangs above his head.

"I want for my children what any normal parent would want," he lamented. "But I know that because I am Palestinian I was put on this earth to suffer."
Jamileh Mohammed Salloum, 40, is Lebanese and married a non-ID Palestinian at the age of 18 without realizing the hardships that awaited her and the three children she would bear.

A Lebanese woman is legally not entitled to pass on her citizenship to her children or spouse.

"I never in my wildest dreams imagined that my children would have no rights and that my country would treat me like this," she said angrily. "Where are the human rights that everyone likes to talk about?

"My children don't even know Palestine, they are Lebanese."
I want for my children what any normal parent would want. But I know that because I am Palestinian I was put on this earth to suffer

Saeed Mohamed Hammo
Perpetual hardship
Human rights groups, non-governmental organizations and analysts warn that the issue of the non-IDs needs urgent attention as they face more obstacles than fellow refugees and could be recruited by extremist groups.

"There is a political and security aspect to all this," said Jaber Abu Hawash of the Beirut-based Palestinian Human Rights Organization. "More than 90 percent of these people have problems, whether mental, social or otherwise.

"And the pressure they are under just to survive can push them towards terrorism."

But such arguments have fallen on deaf ears with successive Lebanese governments that have largely turned a blind eye to the fate of the refugees who are barred from practicing most professions in Lebanon or from owning property.
The political unrest that has plagued Lebanon in recent years has also done little to improve their bleak existence.

The government began issuing identification papers to the undocumented Palestinians in 2008 but that process was abruptly stopped on the grounds that some of the applications were fraudulent.

Plans are underway, however, for the government to resume issuing the IDs.

"I am exhausted from this life of perpetual hardship," said Hammo, 61, who arrived in Lebanon in 1970 and has three children between the ages of five and eight.
I am exhausted from this life of perpetual hardship

Saeed Mohamed Hammo