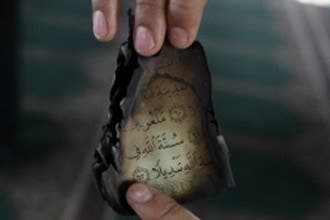 Israeli settlers burn Quran in attack on mosque
Palestinian Christians call on Westerners to reject Zionism
Hundreds of Jewish settlers angry at reduced settlement building burned pages of Islam's holy book in an attack on a West Bank mosque as Palestinian Christians called for sanctions on "evil" Israel and rejected Christian Zionism, press reports said Saturday.

Burned pages of the Quran lay scattered on the mosque's torched carpet as Israelis from the settlement of Tappuah spray painted in large Hebrew letters "Get ready to pay the price," a statement referring to a recent government decision to curb settlement building, only in the West Bank and for only 10 months.
Security forces used teargas to disperse hundreds of furious settlers in the West Bank city of Yasuf, where hardline settlers call for a "price tag" policy under which they target Palestinians in retaliation for any Israeli government measure they see as threatening Jewish settlements.

Settler attacks on Palestinians is a common occurrence and last week a house and three vehicles were set on fire in another northern West Bank village. The owner of the house told police he saw three Jewish settlers start the fires.

Israeli Defense Minister Ehud Barak sharply denounced the attack.

"This is an extreme act meant to harm the government's attempts to advance the process for Israel's future," his office quoted him as saying.
"Evil" Israel
Meanwhile in the West Bank city of Bethlehem Christians from all denominations called for international sanctions on Israel for its "evil" occupation and urged Western Christians to reject Zionism.

"The aggression against the Palestinian people which is the Israeli occupation, is an evil that must be resisted. It is an evil and a sin that must be resisted and removed," the Palestinains Ma'an news agency quoted a released document as stating.

"Primary responsibility for this rests with the Palestinians themselves suffering occupation. Christian love invites us to resist it," the document added.

The group, who call themselves the Palestine Kairos Initiative, modeled after black South Africa's 1985 Kairos Document, called on the international community to begin "a system of economic sanctions and boycott to be applied against Israel," and to "engage in divestment and in an economic and commercial boycott of everything produced by the occupation."

"These advocacy campaigns must be carried out with courage, openly sincerely proclaiming that their object is not revenge but rather to put an end to the existing evil, liberating both the perpetrators and the victims of injustice."
The aggression against the Palestinian people which is the Israeli occupation, is an evil that must be resisted. It is an evil and a sin that must be resisted and removed

Group statement
Faith in God
The group also specifically addressed Chrisitians living in the west who support Zionism and slammed them for "trying to attach a biblical and theological legitimacy to the infringement of our rights." Their interpretation of scripture has "become a menace to our very existence. ... The 'good news' in the Gospel itself has become 'a harbinger of death' for us."

The group said misinterpretations of the holy scriptures was threatening the Palestinian people's existence.

"Those who use the Bible to threaten our existence as Christian and Muslim Palestinians, we renew our faith in God because we know that the word of God can not be the source of our destruction."

"We call on these theologians to deepen their reflection on the Word of God and to rectify their interpretations so that they might see in the Word of God a source of life for all peoples."

According to Ma'an the Palestine Kairos Initiative was first proposed in Jordan leading religious figures from all denominations, including Lutherians, Greek Orthodox and Baptists.

"After sitting and theologically reflecting on the situation, the injustice of the situation, we came up with this document," Kairos spokesman Ranjan Solomon told Ma'an. "Palestinians perceive this as a moment of truth."
Those who use the Bible to threaten our existence as Christian and Muslim Palestinians, we renew our faith in God because we know that the word of God can not be the source of our destruction

Group statement