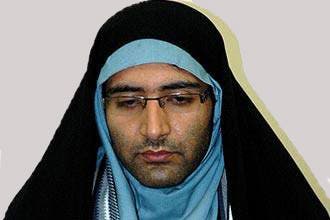 Iran men don veil in protest against government
Showing solidarity with arrested student leader
Five days after renewed student protests across Iran showed that the dispute over the country's presidential elections is from over, hundreds of Iranian men posted pictures of themselves wearing the Islamic headscarf on social networking website Facebook in solidarity with a detained student leader.

Majid Tavakoli of Tehran's prestigious Amir Kabir University was arrested on Dec. 7 during anti-government demonstrations and pictures of him wearing the chador, the women's full-length black wrap, were published on the semi-official Fars news agency, which reported that Tavakoli attempted to flee Iran dressed as a woman.

The pictures provoked a furious response from President Mahmoud Ahmadinejad's opponents who claim the government faked the photographs, which were also deemed derogatory to women, to embarrass him.
A "Free Majid Tavakoli" group was created on Facebook, calling the student leader "a symbol of integrity and courage," and more than 380 Iranian men have showed solidarity with him and posted pictures of themselves wearing a veil or chador with captions such as "I am Majid Tavakoli" or "It is not shame to be a woman, it is shame to be a man like you."

Tavakoli has spent two previous stints in jail and was among a group of students arrested and allegedly tortured in 2007 following a demonstration that disrupted a visit by Ahmadinejad to Amir Kabir University the previous year.

Human Rights Activists in Iran reported that government "agents severely beat and injured Majid during the arrest. The amount of violence and brutality used in the arrest shocked passer[s]-by."

One witness told the human rights group: "All the pictures published by the state media are false and a clear use of immoral means against student and civil activists in Iran."
All the pictures published by the state media are false and a clear use of immoral means against student and civil activists in Iran

Wtiness
Fabricated images of Iran's Supreme Leader Ayatollah Ali Khamenei wearing a female head cover have been posted on the website, gordab.com, a seemingly daring mockery of the government.

Tavakoli's last post on Facebook reads: "Looking at my mother's tearful eyes and father's anxious glances and despite all the difficulties, only the true wish for freedom can maintain my drive and steadfastness. And so once again I welcome and accept all the dangers, standing next to my friends, with whom I am honored and proud to be on 16 Azar (last 7th of December) shoulder to shoulder shouting against tyranny. For freedom."

On Monday, anti-Ahmadinejad protesters used an annual Students Day ceremony on and around Tehran campuses to stage new demonstrations against his controversial second term.

Tehran police chief Azizollah Rajabzadeh said 204 demonstrators -- 165 men and 39 women -- were arrested in those protests for "disrupting public order."