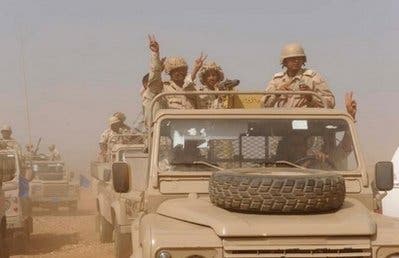 Saudi says 73 soldiers killed in Houthi clashes
Deputy defence minister says bulk of operations over
Seventy-three Saudi soldiers have been killed, 470 wounded and 26 are missing since fighting broke out in November between Saudi forces and Yemeni rebels, a Saudi minister said Tuesday.

"The confrontation on the southern border" has resulted in "73 martyrs and 26 missing" soldiers, said Saudi Deputy Defense Minister Prince Khaled bin Sultan in comments broadcast on television from a media conference in Al-Khoba in the southern Jizan province.

"We believe that 12 of (the missing soldiers) were killed, while we do not know about the fate of the other 14," Prince Khaled said.
"The number of wounded has reached 470, the majority of whom have been treated and released, while 60 remain in hospitals," he added.

This is the first time Saudi Arabia has given a death toll for the fighting between Saudi forces and Yemeni Shiite rebels, also known as Houthis, which began more than a month and a half ago. On November 3, rebels killed a Saudi border guard and occupied two villages inside the kingdom's territory.

Saudi jets began bombing Houthi positions the following day.

Prince Khaled said that the bulk of operations were now over, but noted that a small border village called Al-Jabiriyah was still under Houthi control.

"They have 24 hours to surrender, or we will destroy them," he said, referring to the rebels occupying the village.

While the conflict between Saudi Arabia and the Houthis began recently, fighting between the rebels and the Yemeni government has occurred sporadically since 2004.

The latest round broke out after government troops launched "Operation Scorched Earth," an all-out assault against the rebels, on Aug. 11.

Saudi Arabia and its U.S. ally worry that al-Qaeda is trying to use Yemen, as a launch pad for attacks in the kingdom and beyond.

There is no evidence supporting Yemeni allegations that al-Qaeda has links to the Houthis, but some diplomats and analysts say the Sunni militant group might try to use the rebels or at least exploit the chaos in the border area.
The number of wounded has reached 470, the majority of whom have been treated and released

Deputy Defense Minister Prince Khaled bin Sultan