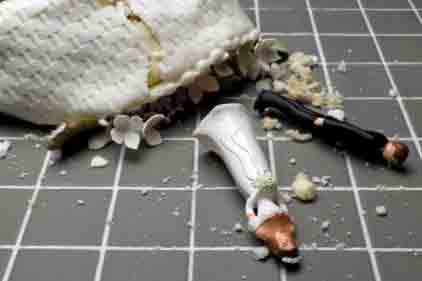 Lebanese wedding in Germany turns into brawl
Ends with the arrival of police officers and rescue teams
A Lebanese wedding in Germany ended with the arrival of dozens of ambulances and even more police officers when the celebration took a turn for the worse and a fight grew into a full-blown rumble, according to press reports Tuesday.

The wedding, held Saturday in a spacious celebration hall in the city of Peine, in the northwestern German state of Lower Saxony, had 800 guests from all around Germany, the London-based newspaper Asharq al-Awsat reported.
The fight is rumored to have started with the cliché scenario of two men fighting over a girl. However, no official reason has been given for what triggered an outbreak so big that allegedly 200 guests resorted to using knives.

What is known is that both the bride's and the groom's families took part in the tussle.

The police, who have so far listened to the testimony of 165 guests, said six guests and one policeman were injured. Four of the injured sustained cuts as a result of the knife fights. One guest was shot in the leg while another guest as well as the policeman were hit in the head with a bottle.

Unable to put an end to the out-of-control brawl, the local police force in Peine had to call for reinforcement from neighboring cities, Salzgitter and Braunschweig.

It took a total of 30 ambulances and police cars and five rescuing teams to restrain the enraged guests and put a stop to the fighting. Guests were later driven to their home towns in police cars for fear further fights would erupt in the streets.

The wedding hall's manager, Ali Ehsan Yildrim, said he organizes an average of 30 parties per year and had never faced any trouble before. Yildrim is waiting for the families to pay compensation for damaging the hall.

Germany has lately witnessed several weddings turn violent, many of which involved ethnic minorities.

A Kurdish wedding held in the city of Essen, in the western state of North Rhine-Westphalia, turned into a fight involving knives and bottles and resulting in three guests being injured. Vogelheim, also in North Rhine-Westphalia, witnessed a similar incident when four people were injured in a 600-guest Turkish wedding.


(Translated from Arabic by Sonia Farid).