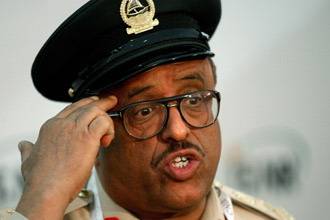 Dubai police chief orders out foreign spies
Says police has DNA of four Mossad agents
Dubai's Police Chief ordered foreign spies operating in the Gulf emirate to leave within a week or risk being hunted down by security forces, according to press reports on Thursday.

"They (foreign spies) better leave or they will face extreme measures," Police chief Dahi Khalfan told UAE. newspaper al-Khaleej.
Khalfan added that the head of Israel's Mossad intelligence agency Meir Dagan opened Pandora's Box executing the assassination of Hamas leader Mahmoud al-Mabhouh in a Dubai hotel.

"His audacity was unprecedented when he made his operatives use European passports."

Dagan's actions, Khalfan explained, were extremely daring and yet he still had the arrogance to assume that the operation would go unnoticed.

"Unraveling the mystery of Mabhouh's case was a serious blow that he had never anticipated."
They better leave or they will face extreme measures

Lieutenant General Dahi Khalfan
DNA
Khalfan announced that the Dubai Police now has the DNA of four Mossad agents involved in the murder.

"As a policeman, I've learned that having the DNA of suspects means there is hope that we can arrest them," Khalfan told the UAE newspaper al-Ittihad Wednesday.

Khalfan reiterated that Mabhouh was betrayed by a Hamas member since the suspects arrived in Dubai 10 or 12 hours before him.

"It must have been someone very close to him who leaked information about his movements," he told the paper.

Khalfan blamed Hamas for not sending one of their operatives to escort Mabhouh and said that the crime might not have taken place had the victim been escorted by a guard.

"The crime wouldn't have been that easy to commit, the culprits wouldn't have been able to hunt him down that easily."

Khalfan denied reports that Mabhouh booked his ticket to Dubai over the internet or that he called his family from Syria to tell them he was travelling. His travel plans were shrouded in secrecy and his passport did not even have his last name.
As a policeman, I've learned that having the DNA of suspects means there is hope that we can arrest them

Khalfan
Palestinian detainees
"His passport name was Abdul Raaouf Mohamed."

Regarding the Palestinian detainees, Khalfan said that one of them booked a room for the culprits to stay in.

"At first he denied then later confessed to meeting them. The second Palestinian detainee was in contact with the culprits and we have found out that he is sentenced to death by a Palestinian faction."

Khalfan denied that detaining those Palestinians implies incriminating Hamas itself, since the detainees are traitors.

He also denied reports that two of the assassins fled from Dubai to Abu Dhabi on the plane of the Israeli Minister of Environment, who was taking part in a conference in the country.

"All members of the assassination teamcame to the country from Dubai Airport and left from Dubai Airport. Surveillance cameras detected them both at the airport and in the hotel."

The issue of the passports, Khalfan added, is still unresolved since there is a possibility that not all of them are fake.

"We are not sure yet. Two of the suspects traveled to the United States on Feb. 14 and 21. I find it very hard to believe that airport security did not discover that the passports were fake. They could have had dual nationalities"

Khalfan is, however, certain beyond all doubt it that it is Mossad that assassinated Mabhouh.

"When the assassination took place in January, I was 99% sure Mossad was behind it, now I am 100% sure."



(Translated from the Arabic by Sonia Farid)
The second Palestinian detainee was in contact with the culprits and we have found out that he is sentenced to death by a Palestinian faction

Khalfan