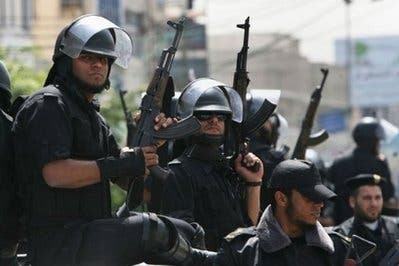 Hamas vows to keep up executions in Gaza Strip
Says will continue executing those convicted of spying for Israel
The Palestinian Islamist movement Hamas ruling the Gaza Strip said on Monday it will keep up executions of those convicted of spying for Israel despite the outrage of human rights groups.

"We will continue to implement the death penalty for all those who are so sentenced," Hamas interior minister Fathi Hamad told a press conference, adding that spying for Israel was a "red line" for the Islamist-run government.

"Anyone who finds himself in this treacherous condition is an agent and a spy. He is providing information without regard to who he really is, and should be brought to justice," he said.
"If there is a death sentence we will implement it immediately in order to preserve our people and its project of jihad (holy war) and liberation."

Rights groups roundly condemned the Hamas government's pre-dawn execution by firing squad of two alleged "collaborators" last Thursday, saying there was little chance of them having been given a fair trial in the besieged territory.

Amnesty International called the executions -- the first in Gaza in five years -- an "extremely retrograde step by Hamas" and said the two men were convicted in "unfair military proceedings."

Hamas hit back at such groups, saying "they should speak about the crimes of the (Israeli) agents and not the justice that we are carrying out."

Thursday's execution by firing squad was carried out in defiance of Western-backed President Mahmoud Abbas, who formed a new administration in the West Bank after being expelled from Gaza by Hamas about three years ago.

Under Palestinian law, the president has the final say in the implementation of capital sentences, but neither Hamas nor Abbas' Fatah faction recognize the legitimacy of the other.

Hamas has opposed Abbas's peace moves with Israel and refuses to recognize the Jewish state.

Since it formed its first government in 1996, the Palestinian Authority has executed several Palestinians who were either charged with murder or with working for Israel. The last such execution took place in 2005.

Amnesty International's Middle East director, Hassiba Hadj Sahraoui, said her group was concerned for other Palestinian prisoners in Gaza who have been given death sentences by Hamas military courts.

"We deplore that these men were convicted in unfair military proceedings," said Sahraoui.
Anyone who finds himself in this treacherous condition is an agent and a spy. He is providing information without regard to who he really is, and should be brought to justice

Hamas interior minister Fathi Hamad