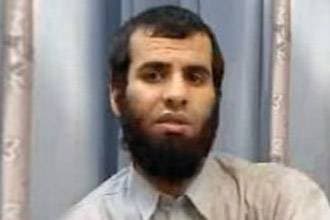 Iran executes brother of Sunni rebel leader Rigi
Abdolhamid Rigi hanged in a prison in Zahedan
Iran on Monday executed a brother of the detained leader of a Sunni Muslim rebel group behind the deadliest bomb attack in the Islamic Republic in years, official media reported.

Abdolhamid Rigi, a convicted member of Jundollah (God's Soldiers), was hanged in a prison in the southeastern city of Zahedan, after his execution was postponed last July and again in December in order to get more information from him.

State television's website said he was convicted of "Moharebeh" (armed opposition to the state) and being "corrupt on earth by membership in a terrorist group."
"Abdolhamid Rigi was hanged in prison Monday morning," the official news agency IRNA said, adding the execution was watched by the "families of victims of terrorist incidents."

Predominantly Shiite Muslim Iran seized his brother, Jundollah leader Abdolmalek Rigi, in February -- four months after the group claimed a bombing which killed dozens of people, including senior officers of the elite Revolutionary Guards.
Iranian officials say Jundollah has links to Sunni Islamist al-Qaeda and support from Pakistan, Britain and the United States. London, Washington and Islamabad deny backing it.

Many minority Sunnis live in Sistan-Baluchestan, an impoverished area in southeast Iran, near Pakistan and Afghanistan, where there has been an increase in recent years in bombings and clashes between security forces, ethnic Baluch Sunni insurgents and drug traffickers.

Iranian officials say security and economic activity have improved in the region since the Jundollah leader's arrest.

"The judiciary decided not to carry out the sentence in public because of some security issues," he said.

State Press TV said Abdolhamid Rigi was charged with bombing operations, armed robbery and drug trafficking. It showed a picture of a bearded, young man on its website.

"Earlier confessions made by Abdolhamid confirmed reports that Washington aided and abetted the armed separatist ring in carrying out its terror activities in Iran," it said.

Jundollah, which accuses the government of discrimination against Sunnis, said it was behind the Oct. 18 attack -- the deadliest in Iran since the 1980s -- that killed more than 40 Iranians, including 15 Guards members.

The Guards, seen as fiercely loyal to Supreme Leader Ayatollah Ali Khamenei, handle security in border areas.

Iran hanged 13 Jundollah members in July last year and one in November in connection with various killings and attacks.

Iran, a major oil producer locked in dispute with the United States and its allies over its nuclear program, rejects allegations by Western rights groups that it discriminates against ethnic and religious minorities.

Hamidi, the judiciary official, reiterated the authorities' offer of amnesty to Jundollah members who "repent".

Earlier confessions made by Abdolhamid confirmed reports that Washington aided and abetted the armed separatist ring in carrying out its terror activities in Iran

Press TV