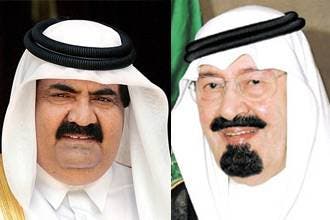 Qatar emir pardons Saudis involved in 1996 coup
In response to Saudi monarch's desire
Qatar's emir has pardoned a group of Saudis for their involvement in an attempted coup to overthrow him in 1996, the country's foreign ministry said on Tuesday.

"In response to the desire of the custodian of the two holy mosques, Saudi King Abdullah bin Abdul Aziz, Qatar's emir, Sheikh Hamad bin Khalifa al-Thani, issued an emiri decision to pardon a number of convicts charged for a failed coup d'etat," the ministry said.

The statement did not specify the number of convicts, nor say what their sentences were.
The group left the country on Tuesday afternoon accompanied by the deputy commander of the Saudi National Guard, Prince Mutaib bin Abdullah bin Abdul Aziz, the ministry said.

For its part, the Saudi Press Agency said the Saudi king had asked his Qatari counterpart to "pardon the Saudi prisoners held in Qatar" and that he had done so.

In July 2008, Qatar released Wabran al-Yami after he spent 12 years in prison for involvement in the February 1996 coup. He was the only Saudi among 19 people sentenced to death.

The aborted coup aimed to overthrow the current emir, who had himself seized power by ousting his father Sheikh Khalifa bin Hamad al-Thani in June 1995.

Sheikh Khalifa returned to Qatar in October 2004 after nine years in exile.